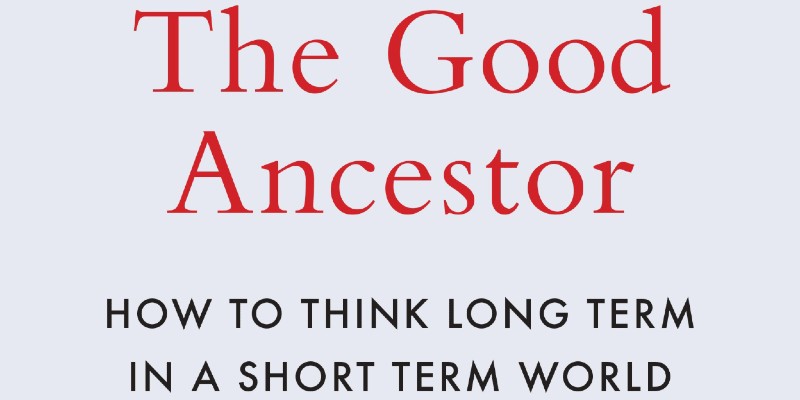 How to Be a Good Ancestor Roman Krznaric
Talk
This event has now finished.
Date and time:

Saturday 13 June 2020, 4pm to 4.50pm

Location:

Online event

Audience:

Open to alumni, staff, students, the public

Admission:

Free admission, booking required
Event details
Missed this event? Watch the talk on Youtube.
We live in the age of the tyranny of the now: politicians can barely see past the next election or businesses past the next quarterly report, and we are addicted to the latest tweet and the 'buy now' button. How can we overcome this frenetic short-termism and extend our time horizons to tackle long-term challenges from the climate crisis to threats from artificial intelligence and genetically engineered pandemics?
Drawing on his powerful new book, The Good Ancestor: How To Think Long Term in a Short-Term World, leading public philosopher Roman Krznaric reveals how we can expand our imaginations far beyond the here and now. Exploring everything from the seventh-generation thinking of indigenous peoples and politically empowered 'guardians of the future' to the history of the London sewers and the latest neuroscience research, Krznaric argues that we have an inbuilt capacity to become 'cathedral thinkers'.
It is time to confront one of the most vital questions of the 21st century: How can we be good ancestors?
The Good Ancestor: How to Think Long Term in a Short-Term World by Roman Krznaric will be published by WH Allen (Penguin Random House) on July 16, 2020.
About the speaker
Roman Krznaric is a public philosopher who writes about the power of ideas to change society. His books, including Empathy, The Wonderbox and Carpe Diem Regained, have been published in more than 20 languages. His new book, The Good Ancestor: How to Think Long Term in a Short Term World, has been described by U2's The Edge as 'the book our children's children will thank us for reading'. After growing up in Sydney and Hong Kong, Roman studied at the universities of Oxford, London and Essex, where he gained his PhD in political sociology. He went on to found the world's first Empathy Museum and is currently a Research Fellow of the Long Now Foundation in San Francisco. Roman's writings have been widely influential amongst political and ecological campaigners, education reformers, social entrepreneurs and designers. An acclaimed public speaker, his talks and workshops have taken him from a London prison to Google's headquarters in California. romankrznaric.com @romankrznaric
Book sales
You can buy copies of many of our speakers' books from Fox Lane Books, a local independent bookseller and Festival partner. In some cases, author signed bookplates are available too.
Partners