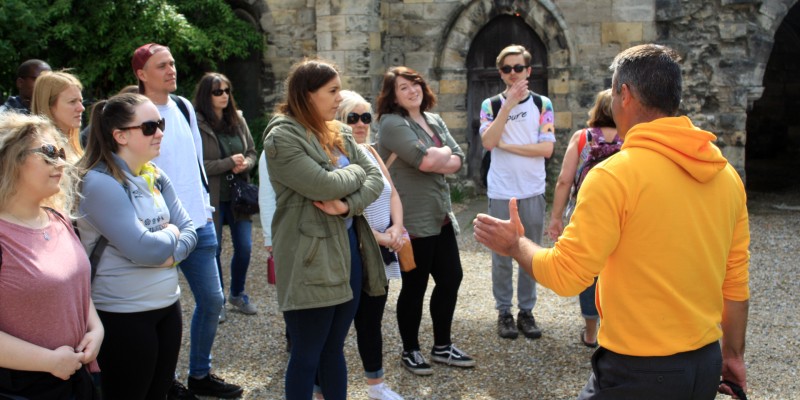 Inside Invisible Cities Zakia Moulaoui and Miles Goring
Talk
This event has now finished.
Date and time:

Monday 8 June 2020, 1pm to 2pm

Location:

Online event

Audience:

Open to alumni, staff, students, the public

Admission:

Free admission, booking required
Event details
Missed this event? Watch the conversation on Youtube.
Invisible Cities is a community interest company that trains people who have experienced homelessness to become walking tour guides of their own city. It offers off the beaten track, personal tours in UK cities, highlighting stories of real people, while raising awareness about social justice.
Established in 2016, Invisible Cities is now in four cities across the UK - Edinburgh, Glasgow, Manchester and York - with plans to expand further.
Join Invisible Cities CEO and founder Zakia Moulaoui, and York tour guide Miles, to learn more about the organisation, its tours and the dramatic consequences of Covid-19.
About the speakers
Zakia Moulaoui is founder and CEO at Invisible Cities. Originally from the South of France, Zakia moved to Scotland when she was 21 years old. For several years, she was Director of International Partner Development at the Homeless World Cup Foundation, a global network of street soccer projects. After her health took a bad turn and she had to fight bowel cancer, she decided to take a break to travel. At the end of 2015, she spent time in Greece and volunteered in a refugee camp on Lesvos Island. It is when she returned that she decided to set-up her own social enterprise: Invisible Cities.
Miles Goring is a father of two, who combines his own life as a former banker with his personal experience of homelessness and recovery journey from addiction to alcohol, to offer a unique walking tour of York. The tour highlights how the city's health and wealth has been continually shaped throughout history. In addition to acting as an Invisible York guide, he also works with Good Organisation (Social Ventures) CIC, leading on a Lived Experience Network as part of a city wide Systems Change project focused on services for those with multiple complex needs.
Invisible Cities
All tours are currently suspended, but thankfully in all our cities Invisible Cities guides are in at least temporary accommodation so they are able to stay safe. But no tours means they are at risk financially. Invisible Cities is currently raising money to provide weekly food and household items for its guides. Find out how you can help here.
You can find out more about the work of Invisible Cities at invisible-cities.org.
Partners