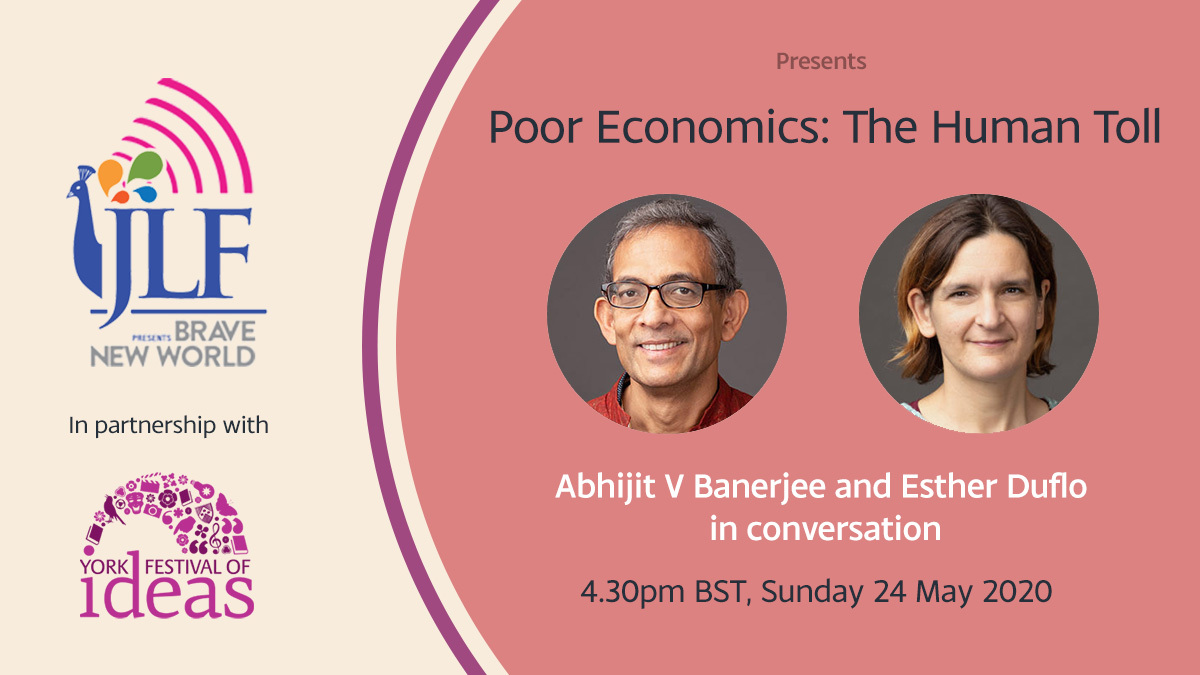 Poor Economics: The Human Toll Abhijit V. Banerjee and Esther Duflo in conversation
Talk
This event has now finished.
Date and time:

Sunday 24 May 2020, 4.30pm to 5.30pm

Location:

Online event

Audience:

Open to alumni, staff, students, the public

Admission:

Free admission, booking not required
Event details
Missed this event? Watch the conversation on Youtube.
Abhijit V. Banerjee and Esther Duflo were awarded the 2019 Nobel Prize for their work on poverty alleviation. They speak of the human toll of the pandemic in the world economy and the global south, and discuss measures and strategies to fight back the catastrophe, including the concept of a universal ultra basic income.
Find the event on the Jaipur Literature Festival website.
About our association with the Jaipur Literature Festival
York Festival and JLF Brave New World collaborate for borderless conversations
York Festival of Ideas and the University of York is delighted to announce an association with 'JLF Brave New World', an online literary series of conversations between the world's greatest writers and thinkers, conceptualised by Teamwork Arts, the producer of the iconic Jaipur Literature Festival. Quite like the Festival itself, the series too is a sumptuous feast of ideas for writers to share each other's stories at a time when the coronavirus pandemic has created multiple boundaries and de-globalisation is the new norm. Both Festivals celebrate the vibrancy of ideas, the spirit of the community and accord vital importance to the seamless flow of knowledge. Our programmes share a common ethos of wanting to celebrate human ingenuity and the diversity of the world we live in, and want to protect the importance of bringing together people of diverse opinions and experiences from around the world.
The York Festival of Ideas is led by the University of York, UK, and this new association with 'JLF Brave New world' is in alignment with and part of the University's broader engagement strategy in India. The association is also illustrative of the belief we share with the Festival in the need for global partnerships, borderless conversations and engagement.
This milestone association is being launched with a first-ever joint event,
Poor Economics: The Human Toll
' which will be delivered by 2019 Nobel Prize winners Abhijit V. Banerjee and Esther Duflo. This will explore the human toll of the Covid-19 pandemic on the world economy and the global south, and discuss measures and strategies to fight back the catastrophe, including the concept of a Universal Ultra Basic Income. The event will take place at 16:30 BST/21:00 IST and can be accessed on the official
website
of the Jaipur Literature Festival as well as official social media handles which include
Facebook
,
Twitter
,
Instagram
and
YouTube
.
This event is the first in a developing partnership between the two festivals, which aims to deliver co-branded events in both York and Jaipur, harness a shared sense of energy and showcase dialogues, debates and musical performances.
Previous sessions of the JLF Brave New World series can be viewed at
http://jlflitfest.org/bnw
.
Partners