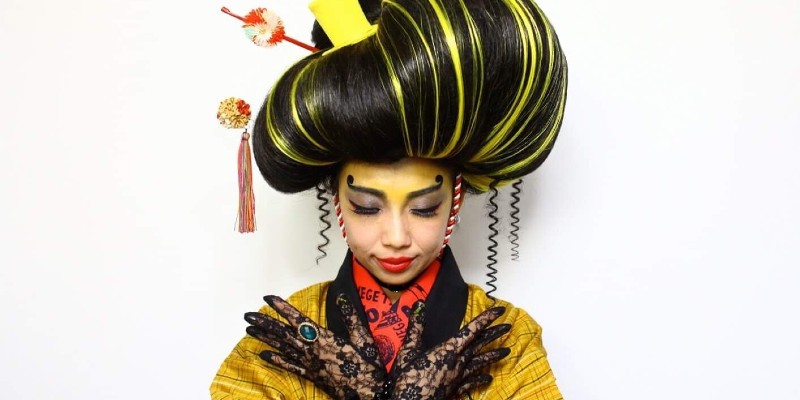 Kimono: Kyoto to catwalk Anna Jackson
Talk
This event has now finished.
Date and time:

Friday 5 June 2020, 1pm to 2pm

Location:

Online event

Audience:

Open to alumni, staff, students, the public

Booking:

Booking required
Event details
Missed this event? Watch the talk on Youtube.
The kimono is an iconic garment, revered within Japan as the embodiment of national culture and sensibility and internationally regarded as an exotic costume. Its symbolic status, and the fact that its shape has remained consistent over many centuries, means that the kimono is often perceived as traditional, timeless, unchanging.
The V&A exhibition Kimono: Kyoto to Catwalk, and the book that accompanies it, counters that conception, revealing that kimono have always been highly dynamic, fashionable garments. It reveals the social and sartorial significance of the kimono in historical and contemporary contexts both in Japan and in the rest of the world, where its impact on dress styles has been felt since the 17th century.
Join Anna Jackson, the curator of the exhibition, who will take us on a fascinating journey from the sophisticated culture of 17th century Kyoto to the contemporary catwalk, revealing some of her own adventures while creating the exhibition.
About the speaker
Anna Jackson is Keeper of the Asian Department at the Victoria and Albert Museum. A specialist in Japanese textiles and dress, she is the curator of the exhibition Kimono: Kyoto to Catwalk and editor of the accompanying publication. Her other books include Japanese Country Textiles (1997), Japanese Textiles in the Victoria and Albert Museum (2000), and Kimono: The Art and Evolution of Japanese Fashion – the Khalili Collection (2015). Another major research interest is the cultural relationship between Asia and the West and Anna has contributed her knowledge to a number of V&A exhibitions and their related publications including Art Nouveau 1890-1914 (2000) and Art Deco 1914-1939 (2003). In 2004 she was co-curator of Encounters: the Meeting of Asia and Europe 1500-1800 and in 2009 lead curator of Maharaja: the Splendour of India's Royal Courts, which subsequently toured internationally.
Book sales
You can buy copies of many of our speakers' books from Fox Lane Books, a local independent bookseller and Festival partner. In some cases, author signed bookplates are available too.
Image credit: Akira Times
Partners