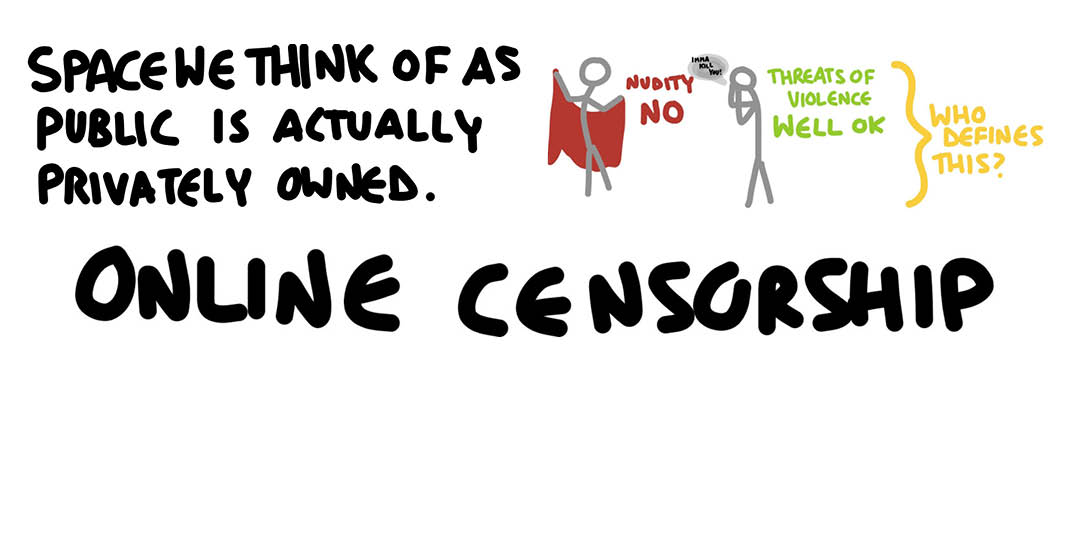 Off Limits? Art, social media and censorship Joanne Leah, Kyvelli Lignou-Tsamantani, belit sağ, Amy Werbel and Michael White (Chair)
Panel discussion
This event has now finished.
Date and time:

Tuesday 9 June 2020, 8pm to 9pm

Location:

Online event

Audience:

Open to alumni, staff, students, the public

Admission:

Free admission, booking required
Event details
Missed this event? Watch the conversation on Youtube.
Join us for a panel discussion on art censorship in the age of social media.
While on the surface we live in a culture that appears to be ever more permissive, restrictions on the circulation of images is increasing at a very fast rate. In particular, demands for social media companies to show responsibility is leading to many images being removed.
But what are the implications of this for artists who increasingly need to use social media to build their audiences and careers? Many are now faced with navigating algorithms designed not just to remove unwanted photographs, but even drawings and cartoons.
In addition, a huge amount of historical art represents acts that would be considered objectionable and reprehensible. Can they be circulated online?
As artists and museums move increasingly into the space of the internet, our expert panel discusses where we should place the boundaries between freedom of expression and social responsibility.
Join art historians Amy Werbel and Kyveli Lignou-Tsamantani of the University of York as they examine art censorship with contemporary artists Joanne Leah and belit sağ.
Following the discussion, which is chaired by Michael White, Head of the University of York's Department of the History of Art, there will be a Q&A session.
Advisory: Please note this event contains images that some viewers may find distressing.
Image credit: Wikimedia Commons, Online censorship, Willow Brugh
About the speakers
Joanne Leah's image-based work explores themes of sexuality, isolation and identity. She focuses on live models who exist on the fringe of society: sex workers, people from the BDSM and LGBTQA+ communities, as well as non-traditional body types. Recent exhibitions include, Acid Mass at Not For Them gallery in Queens, NSFW: Female Gaze at the Museum of Sex and performance/installation project, FLETISH. She founded ArtistsAgainstCensorship.com, which acts as a liaison between artists and social media policy-makers. Joanne lives and works in New York City. You can find examples of her work on her Instagram page @twofacedkitten and also at joanneleah.com.
Kyveli Lignou-Tsamantani is a postgraduate student in the University of York's Department of the History of Art, researching the politics and ethics of spectatorship of atrocity images in contemporary art. Her main focus addresses issues of visibility and invisibility in the same context. Her broader research interests cover the ethics of photography/photojournalism, contemporary art and issues of spectatorship, artistic 'genealogies' in art history, and arts and politics in general.
belit sağ is a videomaker and visual artist living in Amsterdam. Her moving image background is rooted in her work within video-activist groups (VideA, karahaber, and bak.ma) in Ankara and İstanbul. She was a resident artist at the International Studio and Curatorial Program in New York, and Rijksakademie van Beeldende Kunsten in Amsterdam. Her practice focuses on the role of visual representations of violence in the experience and perception of political conficts in Turkey, Germany, Netherlands.
Amy Werbel is Professor of History of Art at the Fashion Institute of Technology (SUNY) in New York. She is currently at the University of York as a Fulbright Fellow, researching art censorship. Amy joined SUNY in 2013 as a specialist in art of the United States. She is the author of numerous works on the subject of American visual culture and sexuality, including Lust on Trial: Censorship and the Rise of American Obscenity in the Age of Anthony Comstock (Columbia University Press, 2018), which was the winner of the 2019 Peter C. Rollins Book Prize of the Northeast Popular and American Culture Association.
Michael White is Head of the University of York's Department of History of Art and Professor in History of Art working chiefly on the interwar avant-gardes. He wrote his doctoral thesis on Theo van Doesburg and has a special interest in De Stijl and modernism in the Netherlands. He was consultant curator of the 2010 Tate Modern exhibition Van Doesburg and the International Avant-Garde: Constructing a New World, advised the Gemeentemuseum Den Haag on the display of its permanent Mondrian and De Stijl collections, and was the external curator of the exhibition Mondrian and his Studios at Tate Liverpool in 2014. His books include Generation Dada: The Berlin Avant-Garde and the First World War (Yale University Press, 2013).
Partners