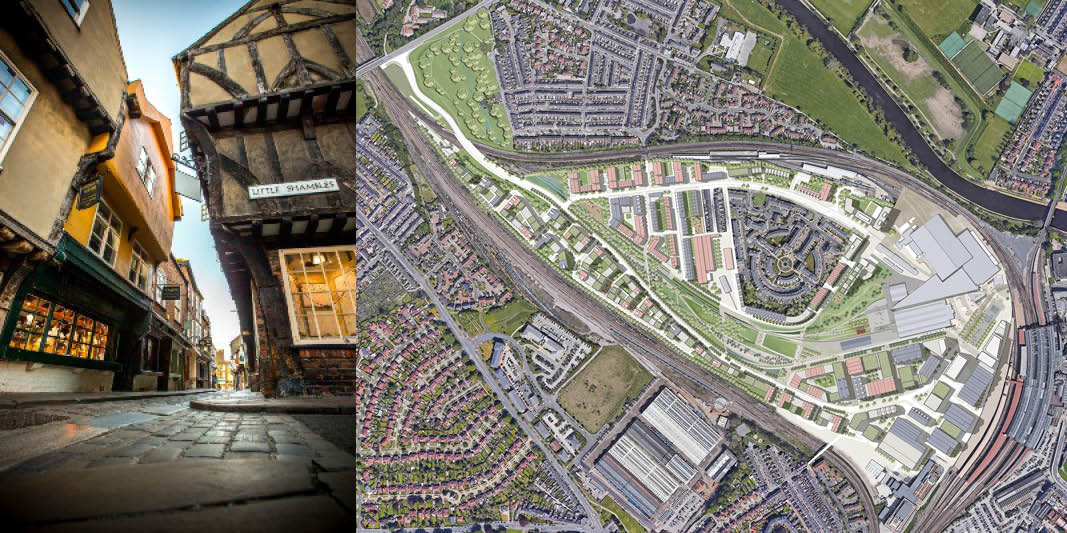 Roadmap to Recovery: York in a post-Covid world Keith Aspden, Walter Boettcher, Juliana Delaney, Charlie Jeffery, Signe Jungersted, Joanna Norris and Greg Dyke (Chair)
Panel discussion
This event has now finished.
Date and time:

Tuesday 2 June 2020, 7pm to 8.30pm

Location:

Online event

Audience:

Open to alumni, staff, students, the public

Admission:

Free admission, booking required
Event details
Missed this event? Watch the conversation on Youtube.
The city of York is known around the world for its rich heritage spanning the Romans, the Vikings, the Anglo-Saxons, and our incredible medieval built architecture. York is also a city rich in knowledge, cutting-edge science, and technology and digital creativity.
So how can cities like York, their businesses and their residents recover from the economic and social impacts of a pandemic like Covid-19? What changes will private and public sector organisations need to implement in order to facilitate recovery? How are other cities planning for recovery, and what lessons can be learned from them?
Join us as we explore how York might play a role in a national recovery plan. Hear the insights and perspectives of experts as they face the challenges and explore the opportunities to drive new inclusive economic growth, tourism and heritage, education, and research and technology.
The economic and social impacts of the pandemic have yet to be fully assessed but we can already see around us that there will be long-term impacts for our residents, for city businesses – large and small - as the national economy contracts. In 2011 the city of Christchurch NZ suffered significant devastation when the earthquake struck. The city has since re-engineered its economy and made huge strides towards economic and social recovery: are there lessons from that experience that we can apply to the current crisis? We are delighted that Joanna Norris, Chief Executive of ChristchurchNZ, is able to join us for our discussions and to offer us her insights.
The event is being co-curated and co-delivered in partnership with Make It York, the city's destination marketing organisation. The event will be chaired by Make It York Chair, Greg Dyke, and will encompass a live stream from different parts of the city of York, Copenhagen, Christchurch, New Zealand and London.
Speakers will also include Charlie Jeffery, Vice-Chancellor of the University of York, who will outline ideas for driving skills, innovation, growth, R&D capacity, inward investment and support for inclusive economic growth. Signe Jungersted, CEO of Group NAO, helped transform tourism in Copenhagen, and will discuss the future nature of travel and tourism, as well as urban centres more generally.
York-based Juliana Delaney, CEO of Continuum Attractions, will talk about the impacts of the lockdown and resilience, while Walter Boettcher, Chief Economist at Colliers International, will provide a national perspective and outline the reforms and change needed as we plan for the future.
The event will be concluded by a summary reflection from City of York Council Leader, Cllr Keith Aspden, who will offer his thoughts on what he has heard as he seeks to develop and implement a city recovery plan.
Why not join in the conversation through our interactive Q&As?
About the speakers
Having graduated from the University of York, in 2003 Keith Aspden became the youngest local councillor in the country. He became Leader of the Liberal Democrat Group in 2013, Deputy Leader of the Council in 2015 and Leader of City of York Council in 2019. Nationally Keith serves as a Deputy Chair at the Local Government Association (LGA) and has a particular interest in education and skills, having qualified as a secondary school teacher in 2004.
Walter Boettcher is Head of Research & Economics at global property advisors Colliers International based in London. He is a research economist identifying timely research topics and directing research and forecasting outputs. He has over 25 years of UK and European property industry experience and extensive expertise across a wide range of property sectors and related industries. He participates regularly in industry panel discussions, but is focused more on direct client engagement with institutions, pension funds, property companies, banks, and private investors. Perhaps best known for his alternative take on property economics and investment, he is a keen proponent of UK regional development and infrastructure investment and has published a series of papers explaining the theoretical economic concepts behind devolution, the rise of the regional mayors and the response of cross border property investors.
Juliana Delaney, FTS (Fellow of the Tourism Society), is CEO of the Continuum Attraction Group. She has a 35-year track-record in the leadership and commercial operation of museums, venues and visitor attractions across Britain and beyond. Beginning her career in tourism brand and marketing at the outset of the Jorvik Viking Centre – she personally led the marketing and then the operation of the Museum, which attracted 1m visitors per year to, what had been, just an 'archaeological hole in the ground'; gaining world-wide attention for York. Juliana became MD of the operational side of a multi-discipline group, primarily managing teams working on leisure and tourism business evaluation and consultancy projects. Visitor attraction, facility management contracts and marketing consultancy followed, resulting experience on over 100-tourism projects across the UK, Europe, the Middle East and China. Juliana also led investment and development of Continuum Group's attractions.
In 2008 Juliana became the CEO of York-based Continuum Group. Juliana led the group to become a £18+m turnover SME, with annual double-digit growth and a commercial entertainment business based on excelling in visitor experiences, delivering great commercial facilities from food and beverage, through retailing and associated hospitality services. Pre Covid-19 Continuum consisted a happy team of 500 people working on portfolio of attractions across Britain as diverse as ITV's Set and studio tours, Mary King's Close on the Royal Mile Edinburgh, the iconic £35m Spinnaker Tower, Portsmouth and a Star Wars hyper-reality pop-up in London.Facility management contracts, including the set-up, launch and front of house operations of the Emirates Airline Cable Car in London and the Royal Mint Visitor Experience in South Wales have always included playing a very proactive role in driving the destination agenda. Continuum was quoted in the The London Stock Exchange Top Growth companies in both the UK and Europe for 3-years running. She is currently on the Board of IAAPA Europe, a Merchant Adventurer of the City of York, Tourism and Hospitality Industry's Top 100 women and a Disney Institute alumni.
Greg Dyke is Chair of Make it York and a former Chancellor of the University of York. From 2000 to 2004 he was Director-General of the BBC, and from 2013 to 2016, Chair of the Football Association. He attended the University of York as a mature student in the early 1970s graduating with a degree in Politics in 1974.
Professor Charlie Jeffery became Vice-Chancellor and President at the University of York in September 2019. He joined York from the University of Edinburgh where he had been Senior Vice-Principal since 2014. Prior to that, he was Vice-Principal (Public Policy) having been Professor of Politics at Edinburgh since 2004. His key achievements include driving interdisciplinary collaborations; like the positioning of Edinburgh's expertise in data science to underpin a regional economic vision. He also played a pivotal role in the development of the £1.3bn Edinburgh City Deal that included a £237m Government investment in Edinburgh's Data Science programme.
Based in Copenhagen, Signe Jungersted is a strategist, analyst, international speaker and the CEO of Group NAO. She creates strategies and concepts for change and transformative agendas across organisations and society. A thought leader in international tourism and visitor economy, she was at the forefront of a major transformation in approaching tourism development in Copenhagen. She is a Board Member of Odense City Museums, and holds a Master's degree in Political Science from the University of Copenhagen and executive education in management and leadership from MIT. Follow her on Twitter at @Signexina
Joanna Norris is the Chief Executive of ChristchurchNZ, the sustainable economic development and city profile agency for the City of Christchurch in New Zealand. Christchurch, in the beautiful South Island of New Zealand, is a city of strength and compassion where innovation and creativity have flourished as the city was rebuilt following a series of powerful earthquakes in 2011 and 2012. Prior to her current role Joanna was editor-in-chief of the city's newspaper The Press, and has worked as a journalist in the UK and the Middle East. Through her roles she has supported communities to tell their stories and to draw together to rebuild following shocks, collaboratively working to usher in a sustainable future.