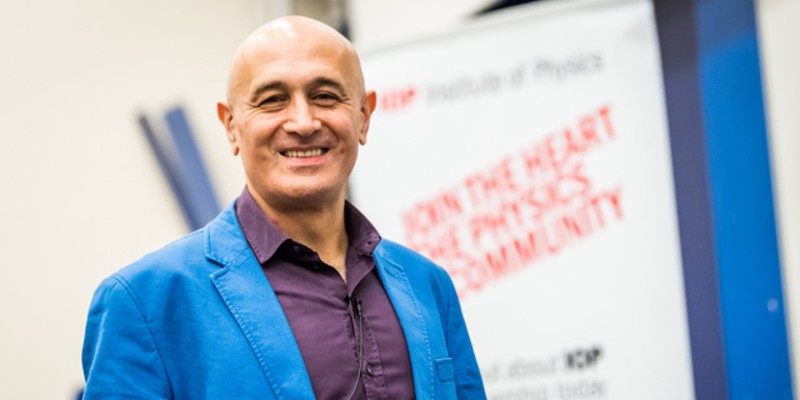 The World According to Physics Jim Al-Khalili
Talk
This event has now finished.
Date and time:

Thursday 11 June 2020, 8pm to 9pm

Location:

Online event

Audience:

Open to alumni, staff, students, the public

Admission:

Free admission, booking required
Event details
Missed this event? Watch the talk on Youtube.
Quantum physicist, bestselling author and broadcaster Jim Al-Khalili offers a fascinating and illuminating look at what physics reveals about the world.
Shining a light on the most profound insights revealed by modern physics, he invites us all to understand what this crucially important science tells us about the Universe and the nature of reality itself.
Join him as, based on his latest book The World According to Physics, he introduces the fundamental concepts of space, time, energy, and matter, and describes the three pillars of modern physics quantum theory, relativity, and thermodynamics showing how all three must come together if we are ever to have a full understanding of reality.
About the speaker
Jim Al-Khalili OBE FRS is a quantum physicist, author and broadcaster and one of the best-known science communicators in Britain. He holds a Distinguished Chair in Physics at the University of Surrey where he teaches and conducts his research. He received a PhD in nuclear theory in 1989 and has since published over 100 research papers. He has written 12 books on popular science, between them translated into over 26 languages, as well as his first novel, Sunfall. He is a regular presenter of TV science documentaries and the long-running Radio 4 programme, The Life Scientific. He is a recipient of the Royal Society Faraday medal, the Institute of Physics Kelvin Medal and the Stephen Hawking Medal. His latest book, The World According to Physics, is published by Princeton University Press.
Book sales
You can buy copies of many of our speakers' books from Fox Lane Books, a local independent bookseller and Festival partner. In some cases, author signed bookplates are available too.
Partners