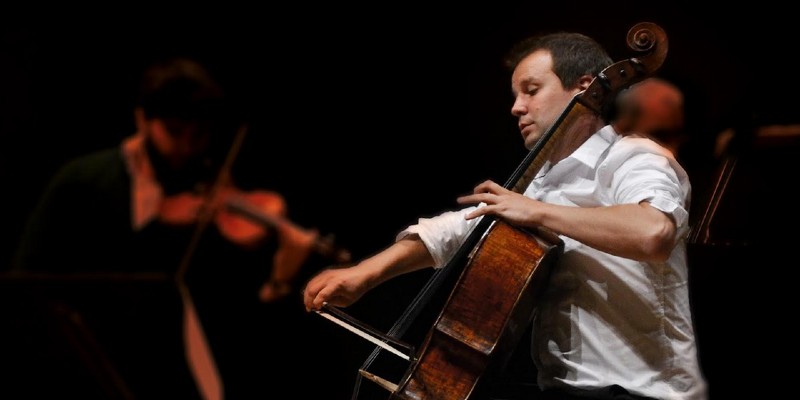 Beethoven and the Cello
Event Details
Very rarely in history someone arrives on Earth touched with such a force of invention that they change everything. Beethoven was such a person – born 250 years ago – a genius without parallel in music.
York Chamber Music Festival invites you to explore Beethoven's inspiring Cello Sonatas through a performance and essay.
Enjoy a live performance of Beethoven's fourth Cello Sonata (Op. 102, No. 1) played by York Chamber Music Festival Artistic Director, Tim Lowe and Andrew Brownell (piano) recorded at Wigmore Hall, London. Musical Opinion said of the concert, 'compelling in every respect: probing, virtuosic and yielding by turns – a true example of outstanding musicianship.'
Then find out more about Beethoven's genius with an accompanying essay by Stuart Lowe (hyperlink to add), which focuses on Beethoven's Cello Sonatas. There are only five of them, but spread out across his creative career – which led, towards the end of his life, to mysterious, strange music unlike anything else heard before, reaching out to the Cosmos from within his silent world. For Beethoven's great tragedy was that for much of his adult life he was deaf.
The concert is available throughout the Festival. Please visit ycmf.co.uk. You can find Stuart's essay here. York Chamber Music essay (PDF

, 493kb)
About the performers and essayist
Tim Lowe (Cello). Tim spends much of his time playing solo and chamber recitals throughout the UK and Europe. He has played most of the major cello concertos in recent seasons and is also the cellist of the Rossetti Ensemble. He has recorded chamber music CDs for various labels, including recently for Deutsche Grammophon, Naxos, and Champs Hill.
As an orchestral player Tim is Guest Principal Cello with many major UK orchestras including the English Chamber Orchestra, Royal Liverpool Philharmonic Orchestra, Bournemouth Symphony Orchestra, and Royal Northern Sinfonia.
Tim is a Cello Professor at the Guildhall School of Music and Drama where he has a large class and also coaches chamber music. He is the Artistic Director of York Chamber Music Festival. He plays a cello made by Carolus Tononi in Bologna in 1716.
Andrew Brownell (Piano). Since winning second prize at the 2006 Leeds Competition, the American pianist Andrew Brownell has pursued an active and varied international performing career. Musical Opinion has described him as 'potentially one of the most significant pianists of his generation".
He has been soloist with orchestras such as the Hallé, Royal Liverpool Philharmonic, Slovak Philharmonic, and the Hermitage State Orchestra (Russia); and he has collaborated with such conductors as Sir Mark Elder, Owain Arwel Hughes CBE, André Bernard, and Murray Sidlin. During his training Andrew studied with Joan Havill at the Guildhall School of Music in London, and from where he was awarded a doctorate. In 2017, he joined the faculty of the Butler School of Music, the University of Texas at Austin.
Until he retired Dr Stuart Lowe was Senior Lecturer in Social Policy, University of York. He would have been a great cellist but instead life led him to become a social scientist. He did play the cello for a while and Fate played its part because he married his cello teacher. She says he never paid her. He says he paid with his life. Stuart and Sue's son Tim was taught to play by his mother and in due course he became a cellist (see above). Stuart is Chair of the trustees of York Chamber Music Festival.
Partners