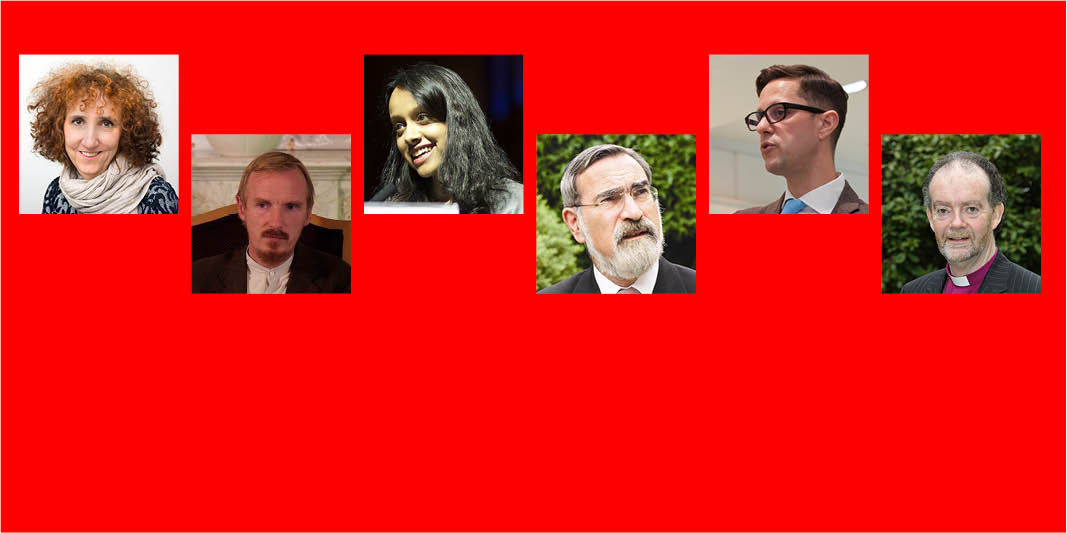 Ebor Lectures: Evolving society and theology
Event Details
Enjoy a special York Festival of Ideas 2020 playlist featuring a selection of some of the most inspiring Ebor Lectures in recent years.
Available throughout the Festival on SoundCloud, the talks cover topics ranging from forgiveness to radicalism, and the United Nations to justice.


Here's a flavour of what's on offer:
The Place of Forgiveness in Mending Broken Relationships
In her 2018 Ebor Lecture, Marina Cantacuzino, founder of The Forgiveness Project, examines how forgiveness and humanising narratives can help break cycles of violence, transform relationships and restore hope.
Religion, Radicalism and Contemporary Politics
In his 2017 Ebor Lecture, Timothy Winter considers whether the modern communications revolution is provoking reformist movements in world religion of the kind which the invention of printing triggered in 16th century Europe.
The United Nations at 70: Has our global experiment worked?
In her 2015 Ebor Lecture, Natalie Samarasinghe reflects on the successes and shortcomings of the UN during its 70 year history.
Biblical Insights into the Good Society

An international religious leader, philosopher, award-winning author and respected moral voice, Rabbi Lord Jonathan Sacks was awarded the 2016 Templeton Prize in recognition of his 'exceptional contributions to affirming life's spiritual dimension'.
What Refugees can Teach others about the Bible
In the midst of debates about migration, Casey Strine's 2017 Ebor Lecture explores what asylum seekers and refugees can teach others about reading the Bible, a collection of texts that remain deeply influential in Western culture.
A Journey around Justice
In this 10th Anniversary Ebor Lecture, Rt Rev James Jones discusses the issues of justice that he has encountered in his ministry. His conviction is that you cannot divorce justification by faith from the imperative of acting justly in God's World.
You can find the full 2020 York Festival of Ideas Ebor Lectures playlist at soundcloud.com/eborlectures/sets/2020-york-festival-of-ideas
About the speakers
Marina Cantacuzino is a journalist who founded the forgiveness project in 2004. The project was set up to tell the real stories of people whose response to being harmed was not a call for revenge but rather a quest for restoration and healing
Dr Timothy Winter, also known as Abdal Hakim Murad, is a Muslim theologian, Shaykh Zayed Lecturer in Islamic Studies at University of Cambridge and founder of the Cambridge Muslim College.
Natalie Samarasinghe is Executive Director of the United Nations Association – UK (UNA-UK), where she has worked since 2006. She is the first woman to hold this role.
Described by H.R.H. The Prince of Wales as 'a light unto this nation' and by former British Prime Minister Tony Blair as 'an intellectual giant', Rabbi Lord Jonathan Sacks - is a frequent and sought after contributor to radio, television and the press both in Britain and around the world.
Dr Casey Strine is a Lecturer in Ancient Near Eastern History and Literature at the University of Sheffield.
Rt Rev James Jones became Bishop of Hull in 1994 and Bishop of Liverpool in 1998. He also served for ten years in the House of Lords. He advised the Government on Hillsborough and chaired the Independent Panel that led to new inquests for the 96 and the verdict of 'unlawful killing'.
About the Ebor Lectures
The Ebor Lectures is an ecumenical project jointly organised by York Minster, York St John University, The Order of Carmelites, The Yorkshire North and East District of the Methodist Church and The C. & J. B. Morrell Trust.
This free series of lectures aims to promote a conversation between theology and public issues, and to contribute to the creation of personal and collective decision making in economic, political and social spheres. Speakers range from leaders in their fields to those with an important story to tell. The lectures provide people with an opportunity to engage with current issues such as politics, economics, contemporary culture, religion, spirituality, and globalisation.
Partners