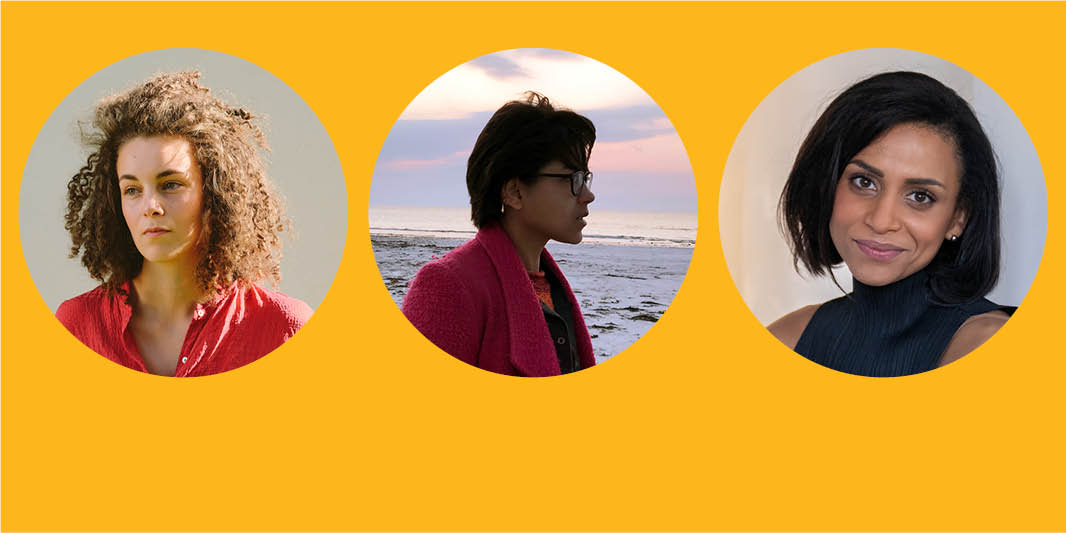 Emergent Writers Online: Poetry
Event Details
Hear from three dazzling emergent poets who are making waves in the contemporary poetry scene - Nisha Ramayya, Rachel Long and Daisy Lafarge.
They each give a reading from their work, and then answer questions about the development of their work, how they got published, and what they make of the current poetry scene in the UK.
Enjoy gaining an insight into the phenomenal work, and wisdom, of these fresh and dynamic voices.
The Emergent Writers podcasts are presented by The York Centre for Writing, York St John University and are hosted on SoundCloud.
Image credit: Daisy Lafarge photo by Sophie Davidson; Rachel Long photo by Amaal Said.
About the speakers
Nisha Ramayya is a poet and Lecturer in Creative Writing at Queen Mary University of London. Her book, States of the Body Produced by Love, was recently published by Ignota Books (2019). The book is a modern mystical journey through love. Meditating on diasporic identity, language and resistance, Nisha conjures an opalescent world by way of Tantric ritual and myth. Threads, a creative-critical pamphlet co-authored with Sandeep Parmar and Bhanu Kapil, is published by clinic. She is a member of the Race & Poetry & Poetics in the UK research group and the interdisciplinary practice-as-research group Generative Constraints.
Rachel Long is a poet and leader of Octavia – Poetry Collective for Women of Colour, which is housed at Southbank Centre, London. Her first collection, My Darling from the Lions, will be published by Picador in July 2020. Long was shortlisted for Young Poet Laureate for London in 2014, and awarded a Jerwood/Arvon Foundation mentorship in 2015. She is Assistant Tutor on the Barbican Young Poets programme 2015-present.
Daisy Lafarge's first collection, Life Without Air, will be published by Granta Books in November 2020. She received an Eric Gregory Award in 2017, and a Betty Trask Award in 2019 for a novel, Paul, forthcoming with Granta. Daisy is currently working towards a PhD at the University of Glasgow.
The York Centre for Writing
The York Centre for Writing, York St John University, is a hub for a number of exciting writing events, projects and publications in collaboration with Valley Press, York Literature Festival, and other community partners.
Partners