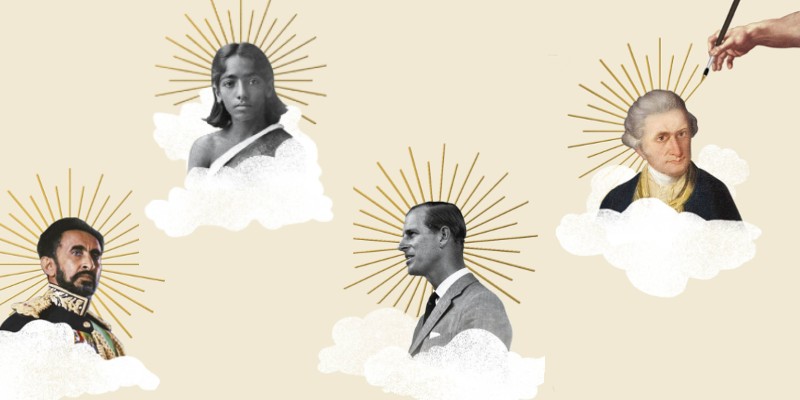 Accidental Gods: On men unwittingly turned divine Anna Della Subin
Talk
This event has now finished.
Date and time:

Wednesday 22 June 2022, 1pm to 2pm

Location:

Online only

Admission:

Free admission, booking required
Event details
Anna Della Subin, author of Accidental Gods, introduces us to man-gods across time and space: deified politicians and imperialists, militants, mystics and explorers.
From Haile Selassie, acclaimed as the Living God in Jamaica, to Prince Philip, who became the unlikely centre of a new religion on a South Pacific island, men made divine have appeared on every continent. And because these deifications always emerge at moments of turbulence - civil wars, imperial conquest, revolutions - they have much to teach us.
Learn about the impulse towards deification that persists even in a secular age, as show of defiance or assertion of power, and join Anna as she traces the colonial desire for divinity through to the creation of 'race' and the white power movement today, arguing that it is time we rid ourselves of the white gods among us.
This event will take place live on Zoom Webinar. You'll receive a link to join a couple of days before the event takes place and a reminder an hour before. During the event, you can ask questions via a Q&A function, but audience cameras and microphones will remain muted throughout.
Book sales
You can buy copies of many of our speakers' books from Fox Lane Books, a local independent bookseller and Festival partner. In some cases, author signed bookplates are available too.
About the speaker
Anna Della Subin is a writer, critic and independent scholar born in New York and now living in Dublin. Her essays have appeared in Harper's, the London Review of Books, New York Times and New Yorker. A senior editor at Bidoun, she studied the history of religion at Harvard Divinity School. Accidental Gods: On Men Unwittingly Turned Divine is her first book.
Partners