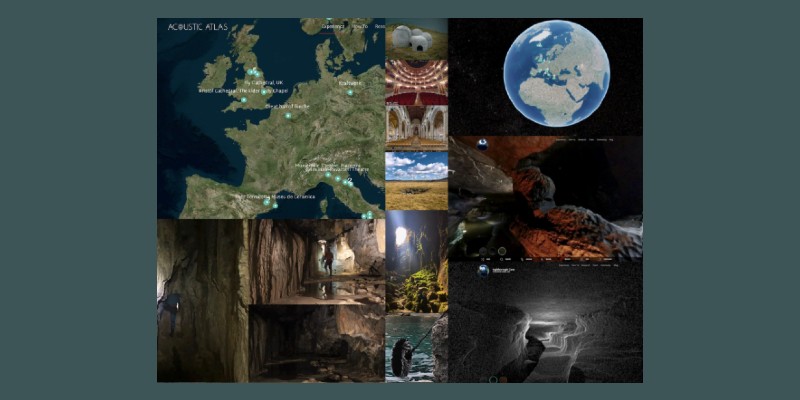 Acoustic Atlas: Cultivating the capacity to listen
Interactive activities
This event has now finished.
Date and time:

Thursday 16 June 2022, 5.30pm to 6.30pm

Location:

In-person only
School of Arts and Creative Technologies East, Campus East, University of York (Map)

Admission:

Free admission, booking required
Event details
Acoustic Atlas is a new model for directly experiencing acoustic heritage data as real-time auralisations. People are invited to 'travel' to heritage sites and remote spaces through sound via a first-person experience - using their voices to reveal architectural form, texture and place.
Acoustic Atlas is a multidisciplinary project that combines acoustic studies, sound art, visualisation art, sound ecology, archaeology, heritage fields, spatial audio, interactive design, map making and music. Sound reveals space in an audio-tactile way that adds tremendous depth to our sense of corporeal presence and spatial awareness in any chosen environment. As our lives continue to expand into digital domains it is crucial that our digital ability to 'listen', as well as our awareness of the processes that shape this listening experience, are equally expanded.
Acoustic Atlas is a virtual acoustic map making project with a social engagement agenda, conservation as creative participatory journey.
In the foyer of the Department of Theatre, Television and Interactive Media there will also be listening booths, where you can sing into the sites of the Acoustic Atlas and listen via headphones. The booths will be available around the talk from 3:30pm - 5:30pm, 5:30-6:30 the talk will take place, from 6:30 - 7:30 the booths will be available again and Cobi will be around to answer any questions.
Image credit: © Cobi van Tonder
About the speaker
Dr Cobi van Tonder is a Marie Skłodowska-Curie research fellow and artist at the Department of Theatre, Film, Television and Interactive Media at University of York, where she is currently working on Acoustic Atlas together with Dr Mariana López. She has presented her works worldwide, including concerts and exhibitions in Japan, Korea, USA, Ireland, UK, Germany, South Africa and Greece. Her innovative art/science hybrid projects involve the creation of new technological interfaces or software to enable artistic ideas. She explores diverse avenues of listening as art-making space as 'expanded listening'. Reverb - which is the persistence of sound, the invisible image created by the acoustics of a space and the music that rings in such vast emptiness, is increasingly becoming the focus of her work.
Works that led to Acoustic Atlas are The Audio Tunnel and later The Persistence of Sound, where remote spaces were connected through the internet in real-time to create a live ambient drone; and Goodbye Anthill (for voices and computer) where recursive layers of convolution reverb expand the textural qualities of the drone. A large section of Cobi's PhD thesis was dedicated to spatiality in sound as well as the use of acoustics as a prominent musical parameter. Working with the acoustics of actual heritage spaces lends a focused context and purpose to the music that she feels is often missing in electronic music.
Find out more about Acoustic Atlas
Find out more about Theatre, Film, Television and Interactive Media at the University of York
Partners