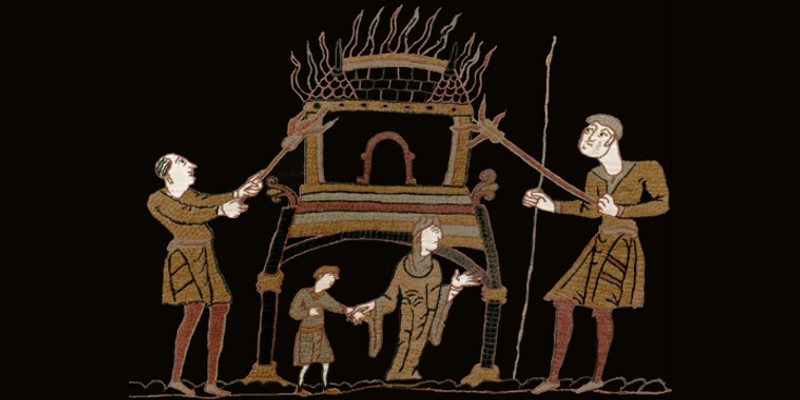 Conquered: The last children of Anglo-Saxon England Eleanor Parker
Talk
This event has now finished.
Date and time:

Monday 20 June 2022, 6pm to 7pm

Location:

Online only

Admission:

Free admission, booking required
Event details
The Norman Conquest is one of the most momentous events in English history and its consequences changed England forever. Indeed, the Battle of Hastings and its aftermath nearly wiped out the leading families of Anglo-Saxon England - so what happened to the children this conflict left behind?
Medievalist Eleanor Parker offers a fresh take on the Norman Conquest by exploring the lives of those children who found themselves uprooted by the dramatic events of 1066.
Among them were:
The children of Harold Godwineson and his brothers, survivors of a family shattered by violence who were led by their courageous grandmother Gytha to start again elsewhere;

The last remaining heirs of the Anglo-Saxon royal line - Edgar Ætheling, Margaret and Christina - who sought refuge in Scotland, where Margaret became a beloved queen and saint;

Waltheof of Northumbria and Fenland hero Hereward, who became legendary for rebelling against the Norman conquerors;

And Eadmer of Canterbury, who chose to influence history by recording his own memories of the pre-conquest world.
From sagas and saints' lives to chronicles and romances, Eleanor draws on a wide range of medieval sources to tell the stories of these young men and women and highlight the role they played in developing a new Anglo-Norman society. These tales - some reinterpreted and retold over the centuries, others carelessly forgotten over time - are ones of endurance, adaptation and vulnerability, and they all reveal a generation of young people who bravely navigated a changing world and shaped the country England was to become.
This event will take place live on Zoom Webinar. You'll receive a link to join a couple of days before the event takes place and a reminder an hour before. During the event, you can ask questions via a Q&A function, but audience cameras and microphones will remain muted throughout.
Book sales
You can buy copies of many of our speakers' books from Fox Lane Books, a local independent bookseller and Festival partner. In some cases, author signed bookplates are available too.
About the speaker
Eleanor Parker is Lecturer in Medieval English Literature at Brasenose College, University of Oxford, UK. She also writes a regular column for History Today.
Partners