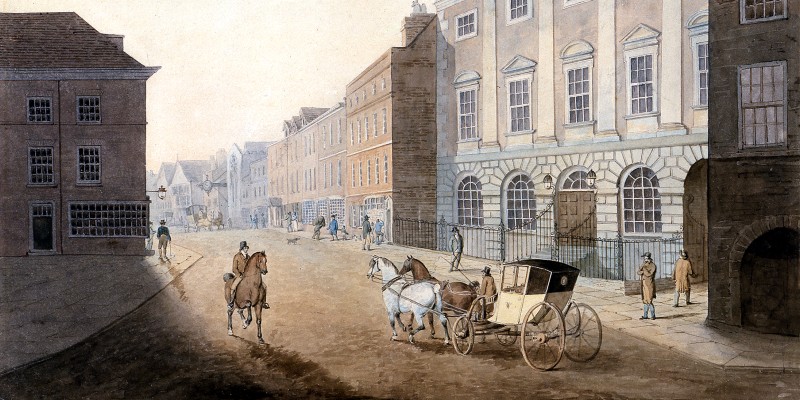 Crocodiles in York: Jane Ewbank's Diary (1804) Jane Rendall, Gillian Russell, Rachel Feldberg and Jon Mee
Talk
This event has now finished.
Date and time:

Thursday 23 June 2022, 6pm to 7pm

Location:

Online only

Admission:

Free admission, booking required
Event details
In the middle of the Napoleonic Wars, druggist's daughter Jane Ewbank enjoyed a busy life in York: there were burglars at midnight, visits to York Theatre Royal, a gripping lecture on Thunder and Lightning - and a crocodile on display in Minster Yard.
Discover Ewbank's remarkable diary, her many activities and her unique circle of women friends with four members of York University's Centre for Eighteenth Century Studies.
Jane Rendall will consider the part Ewbank played in York's networks of middle-class women, including her extensive socialising and her philanthropic work.
Ewbank was an avid playgoer, and Gillian Russell will explore the kind of plays the young woman saw at the Theatre Royal and commented on in her diary, particularly the appearances of the child star 'Master Betty', whose profile across Britain and Ireland in 1804-5 rivalled that of Napoleon.
Drawing on Ewbank's visits to local quarries and 'collections of curiosities' and her attendance at all 40 of the popular scientific lectures of Henry Moyes, Rachel Feldberg will discuss how she thought and wrote about the natural world.
Finally, Jon Mee will reflect on Ewbank's fashionable taste for landscape. In her tours of the Lake District, Ewbank became curious about William Wordsworth's poetry, an advanced taste for the time, but not uncommon among those interested in 'useful knowledge.'
This event will take place live on Zoom Webinar. You'll receive a link to join a couple of days before the event takes place and a reminder an hour before. During the event, you can ask questions via a Q&A function, but audience cameras and microphones will remain muted throughout.
Image copyright: Thomas White, 'Coney Street with the Mansion House', painted 1795-1805 - Image courtesy of York Museums Trust :: https://yorkmuseumstrust.org.uk :: Public Domain (detail)
Book sales
You can buy copies of many of our speakers' books from Fox Lane Books, a local independent bookseller and Festival partner. In some cases, author signed bookplates are available too.
About the speakers
Jane Rendall is an Honorary Fellow of the Centre for Eighteenth Studies and the History Department at the University of York. She has published widely on women's and gender history in the eighteenth and nineteenth centuries. Her most recent publication is the jointly edited Association and Enlightenment: Scottish Clubs and Societies 1700-1830 (Bucknell University Press, 2020).
Gillian Russell is Professor of Eighteenth Century Literature and Director of the Centre for Eighteenth Century Studies in the University of York. She has written widely on the topics of theatre, sociability, gender, war and print culture of the Georgian period. Her most recent book is The Ephemeral Eighteenth Century: Print, Sociability and the Cultures of Collecting (Cambridge University Press, 2021).
Rachel Feldberg is a PhD student at the University of York working on eighteenth-century women's engagement with science and technology. The former Director of Ilkley Literature Festival, her chapter on Illness and the Body in Letters and the Body ed. Karen Harvey et al is forthcoming from Routledge.
Jon Mee is Professor of Eighteenth Century Studies at the University of York. He has published widely on culture, politics and the circulation of knowledge in the period 1780 to1850. His study of the 'transpennine enlightenment', Networks of Improvement, should be out from the University of Chicago Press in 2023.
This talk is sponsored by the Centre for Eighteenth Century Studies at the University of York.
Partners