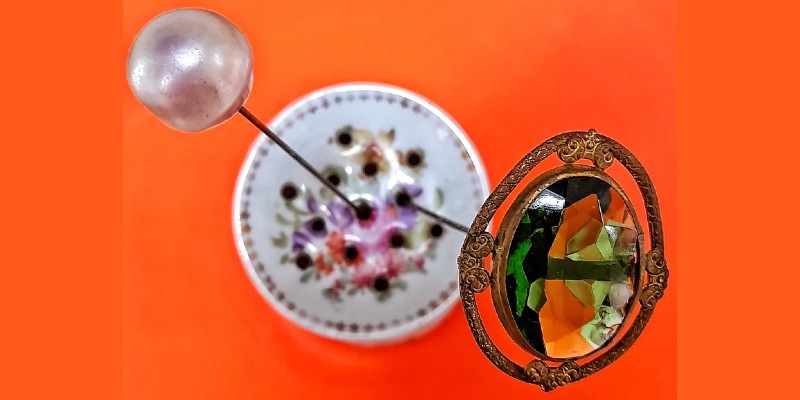 Handling History: Exploring dress accessories Cordula van Wyhe and Susan Vincent
Workshop
This event has now finished.
Date and time:

Saturday 18 June 2022, 11am to 12pm

Location:

In-person only
Ron Cooke Hub, Campus East, University of York (Map)

Admission:

Free admission, booking required
Event details
Dress accessories - those small items that people carried, wore and handled - have big stories to tell.
Join Cordula van Wyhe and Susan Vincent of the University of York in this hands-on workshop to take a look at the beautiful and sometimes mystifying objects that were once fashionable. Using the handling collection of the Digital Museum of Dress Accessories (DMDA), you will ask what these items did, how they were used and why they were worn, and you will discover how they connect with much broader ideas.
Picking up a dress accessory reveals a whole realm of health and hygiene, global trade, and bold new technologies. Its small dimensions give form to gender roles and expectations, and also show us conflicts, as these ideas developed over time.
Participants in the workshop are invited to handle a range of items that date from the mid-eighteenth century to the early twentieth. These will be accompanied by contemporary images and descriptions. From hat pins to buckles, compacts to patch boxes - the huge world of tiny fashions awaits.
Image credit: © DMDA
BBC History Magazine
BBC History Magazine is Britain's biggest-selling history brand with a highly engaged and loyal audience. It brings history to life with informative, lively and entertaining features written by the world's leading historians and journalists. Whether it's the grand history of politics and institutions or the fascinating stories of our private lives through the ages, BBC History Magazine sheds new light on the past and helps us make more sense of today's world.
About the speakers
Dr Cordula van Wyhe is Senior Lecturer at the Department of History of Art, University of York, and the project leader for the Digital Museum of Dress Accessories.
Dr Susan Vincent is a Research Associate at the Centre for Renaissance and Early Modern Studies (CREMS), University of York, and part of the DMDA's research team.
Digital Museum of Dress Accessories (DMDA)
The DMDA rethinks the category of 'dress accessory' and takes it centre stage. Using museum objects from the 18th century to the middle of the 20th century that are rarely exhibited, researched, photographed or even fully catalogued, the DMDA explores the importance and beauty of these small but forgotten things. The museum is a free, digital site that can be visited by anyone at any time. It also has its own handling collection of original artefacts.
Partners