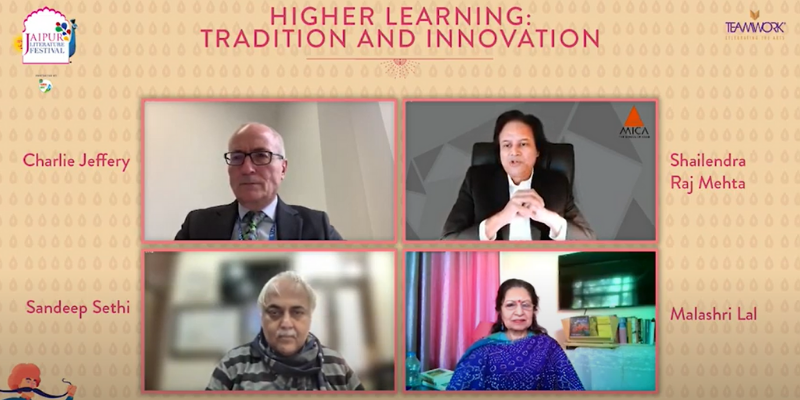 Higher Learning: Tradition and innovation Charlie Jeffery, Shailendra Raj Mehta and Sandeep Sethi in conversation with Malashri Lal, introduced by Rashmi Sharma
Panel discussion
This event has now finished.
Date and time:

Wednesday 15 June 2022, 12pm to 12.50pm

Location:

Online only

Admission:

Free admission, booking required
Event details
As societies evolve, so must systems of learning; education and innovation are indispensable to realties present and in-wait. Experts in education, and its many shifting frameworks, come together to discuss abundant possibilities for 'higher' learning.
About the speakers
Professor Charlie Jeffery is the Vice-Chancellor and President at the University of York. He is interested in the optimal service research and education can render to social and economic welfare.
Shailendra Raj Mehta is an Indian economist, President and Director at MICA, Ahmedabad, and a member of the Mission High-Level Committee (MHLC) of the Indian Knowledge System.
Sandeep Sethi is Director of Education at MSMS II Museum Trust, Jaipur. He has conceptualised educational models which challenge societal barriers and are grounded by inclusivity and ideation. In conversation with esteemed writer and academic, Malashri Lal, they discuss the fundamental and forward-looking dimensions of learning.
This is a YouTube Premiere event. You'll be sent a link to the screening a few days before it takes place, as well as a reminder an hour before.
Partners