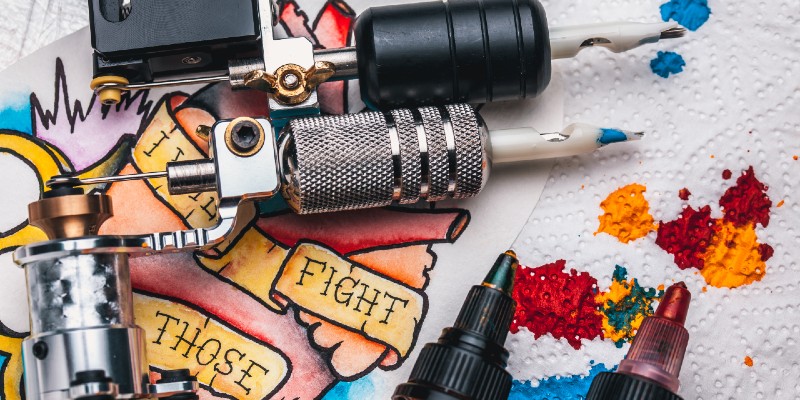 The History and Future of Tattoos Allison Hawn
Talk
This event has now finished.
Date and time:

Wednesday 15 June 2022, 8pm to 9pm

Location:

Online only

Admission:

Free admission, booking required
Event details
Western tattoos and tattoo artists have a long, complicated and often mysterious history. It is a past that is made even more complex by stigmatisation, colonialism and classism.
Join tattoo artist researcher and historian Allison Hawn as she delves into this tangled history, providing information that helps make sense of the reasons that Western society, from past to present, has oftentimes labelled tattoos, tattoo artists and people who adorn themselves with body art as deviant.
Allison will also delve into the ways that embracing tattoo artists and their art can help us democratise the world of 'fine art', and make all art more approachable and accessible to everyone.
From Ötzi the Iceman, to Norman 'Sailor Jerry' Collins, to modern tattoo shops, learn about tattoo artistry's colourful past and discover its bold future.
This event will take place live on Zoom Webinar. You'll receive a link to join a couple of days before the event takes place and a reminder an hour before. During the event, you can ask questions via a Q&A function, but audience cameras and microphones will remain muted throughout.
Book sales
You can buy copies of many of our speakers' books from Fox Lane Books, a local independent bookseller and Festival partner. In some cases, author signed bookplates are available too.
About the speaker
The occupations Dr Allison Hawn has not held might be easier to list than those she has. She had a nearly decade-long career as a social worker and domestic violence survivor advocate, spent over a decade working in a variety of private security settings, hauled fish on a deep-sea fishing vessel, managed not to fall multiple stories as the lighting technician for a concert house, and scheduled appointments for a tattoo shop. Her myriad of life experience has led her to research topics that are often on the outer edge of academic research.
Allison holds a BA in Psychology from Northwest Nazarene University, an MA in Communication with a focus in Advocacy from Arizona State University, and she will be receiving her PhD in Communication later this year. Her dissertation examines the communicative practises of tattoo artists, the history of colonialism in Western tattooing practises and the ways that tattoo artists can democratise the world of fine art. With four years of research in the field in tattoo shops across the US, more years spent combing over rare texts regarding tattoos, and over 60 hours spent in a tattoo chair herself, it is an area that Allison feels quite at home in. Her work has received awards from the Institute for Social Science Research, she has presented at multiple academic and professional conferences, including the National Communication Association Conference, and she is an author with multiple books, journal articles, magazine articles and conference works. Her hope is to show the world the beauty, magic and artistic skill to be found in the world of tattoos.
Partners