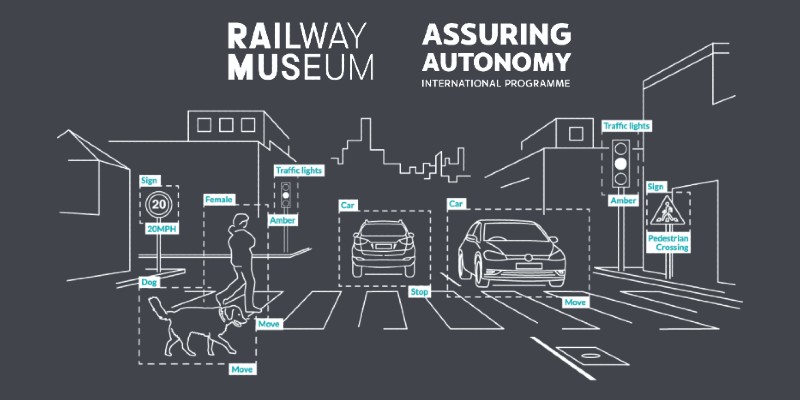 The Innovation Platform: Expert tours Bob Gwynne and James Hilder
Exhibition
This event has now finished.
Date and time:

Saturday 18 June 2022, 11am to 2pm

Location:

In-person only
National Railway Museum, Leeman Road (Map)

Admission:

Free admission, booking required
Event details
This summer, the National Railway Museum will launch The Innovation Platform, a brand-new exhibition highlighting emerging ideas and extraordinary achievements from the rail industry's leading research and development departments.
Over a two-year period the museum will exhibit a series of cutting-edge technologies. The first object on display will ask audiences to consider the impact of driverless technologies in future public transport. It has been developed with the Assuring Autonomy International Programme at the University of York.
Book your free guided tour offered as part of the Festival and discuss the themes of the exhibition with the project's lead curator and members of the University of York's Assuring Autonomy International Programme.
Do not miss this fantastic opportunity to discover how present ideas are transforming our future railways.
Tours start at 11am and 1pm.
About the speakers
Bob Gwynne, Associate Curator, acts in support of the National Railway Museum's curatorial team. He works across a range of areas, from preparing background research on different aspects of the collection to liaising with heritage groups, historians and the media. Bob is particularly interested in the railway before steam, how Britain moved from steam to diesel and electric power and what the future may hold for rail.
Dr James Hilder is Technical Team Manager at the Institute for Safe Autonomy, University of York. He started his academic career with research into biologically-inspired algorithms for developing electronic circuits, before moving into the field of robotics and autonomous systems. He has worked on a number of robotics research projects and most recently has helped in developing wheeled delivery robots that are designed to work in a shared environment with humans.
National Railway Museum
The National Railway Museum boasts the world's greatest railway collection, celebrating the past, present and future of the railways and the huge impact these technologies have on society. One of the most visited UK museums outside of the capital, the National Railway Museum received 750,000 visitors per year prior to the pandemic.
Connect with the National Railway Museum online:
National Railway Museum Website
National Railway Museum Instagram
National Railway Museum Twitter
National Railway Museum Facebook
Assuring Autonomy International Programme, University of York
The Assuring Autonomy International Programme (AAIP) leads global state-of-the-art research to provide industry, regulators, researchers and others with guidance in assuring and regulating robotics and autonomous systems.
Partners