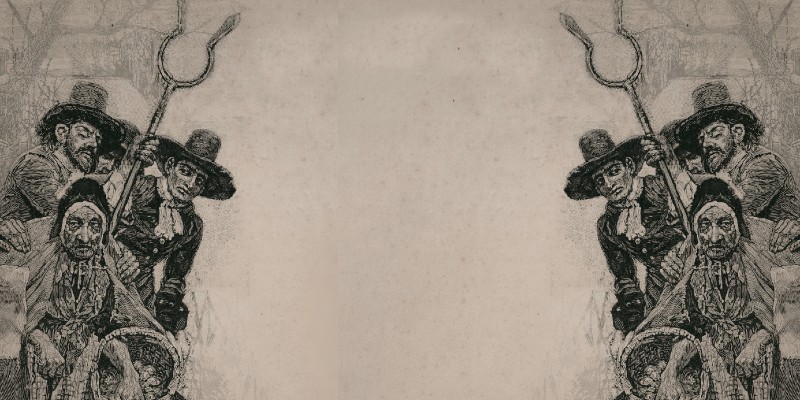 The Last Witches of England: A tragedy of sorcery and superstition John Callow
Talk
This event has now finished.
Date and time:

Saturday 11 June 2022, 12pm to 1pm

Location:

In-person only
Tempest Anderson Hall, Museum Gardens (Map)

Admission:

Free admission, booking required
Event details
On the morning of Thursday 29 June 1682, a magpie came rasping, rapping and tapping at the window of a prosperous Devon merchant. Frightened by its appearance, his servants and members of his family had, within a matter of hours, convinced themselves that the bird was an emissary of the devil sent by witches to destroy the fabric of their lives. As the result of these allegations, three women of Bideford came to be forever defined as witches. A Secretary of State brushed aside their case and condemned them to the gallows; to hang as the last group of women to be executed in England for the crime. The belief in witchcraft still lingered on for more than a century after their deaths.
In turn ignored, reviled and extinguished but never more than half-forgotten, it seems that the memory of these three women - and of their deeds and sufferings, both real and imagined - was transformed from canker to regret, and from regret into celebration in our own age. Indeed, their example was cited during the final Parliamentary debates in 1951 that saw the last of the witchcraft acts repealed. Their names were chanted, as both inspiration and incantation, by the women beyond the wire at Greenham Common.
Join John Callow, author of The Last Witches of England, as he explores this remarkable reversal of fate and the remarkable tale of the Bideford Witches.
Book sales
You can buy copies of many of our speakers' books from Fox Lane Books, a local independent bookseller and Festival partner. In some cases, author signed bookplates are available too.
About the speaker
John Callow is an Honorary Research Fellow at the University of Suffolk, UK, who has written widely on early modern witchcraft, politics and popular culture. He is the author of The Making of King James II and Embracing the Darkness. He has appeared on the BBC Radio 4 documentary It Must be Witchcraft and the series on the Salem Witches on the Discovery Channel. The Last Witches of England is his most recent book.
Partners