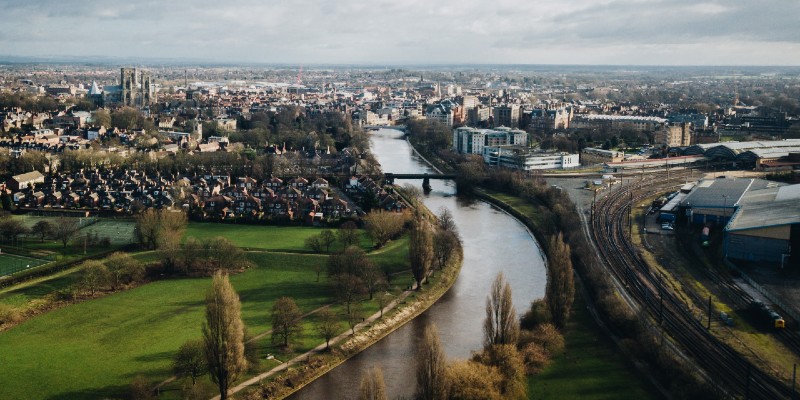 Living Lab: Insights from the junction
Interactive activities
This event has now finished.
Date and time:

Wednesday 22 June 2022, 6pm to 7pm

Location:

In-person only
Temple Hall, York St John University (Map)

Admission:

Free admission, booking required
Event details
Who suffers the impacts of poor air quality?
Who decides how urban spaces are shared and what they are for?
Who has the power to improve the situation?
Everyone wants to breathe clean air, but what are the technical and social solutions?
Throughout Spring-Summer 2022, York St John University students from over ten different academic subjects are collaborating to investigate the problems and solutions of poor air quality, both in the area around the university - specifically the junction of Lord Mayor's Walk and Gillygate - and worldwide.
Funded by the university's Institute for Social Justice, this experimental, interdisciplinary 'Living Lab' approach to education allows students to learn through collaboration with the aim of tackling real problems in the campus environment.
Students from all kinds of subject areas work together, contributing relevant and important skills:
Geographers bring their understanding of the politics of space;

Biochemists their knowledge of the health impacts of particulate matter;

Performers and artists their ability to express the embodied experience of living in particular urban spaces;

Linguists and designers their gift for persuasion;

Social scientists their focus on global health inequalities.
The students and staff of the 'Living Lab' invite the public to this interactive panel event including short performances, citizen science activities and mini talks exploring air quality, health inequalities, and the kind of future they envision for York's public spaces.
Working together with the university's Estates department and City of York Council, this event is not just a way of sharing knowledge with others in the city, but of advocating for change.
Image credit: © Luke Porter
About the speakers
The Ecological Justice Research Group is an energetic, supportive and diverse group of staff and postgraduate researchers, representing all five of the university's academic Schools and several Professional Services departments. Located within the university's Institute for Social Justice, the Ecological Justice Research Group aims to develop research and teaching practice that intertwines the social and ecological dimensions of justice. They are particularly active in pedagogical research that informs the university's approach to preparing students for lives and careers in an era of climate emergency. Although only recently formed, members of the group have already held an Inaugural Symposium (Nov 2021) and been awarded funding for pedagogical research: a pilot project experimenting with the concept of 'Living Labs'.
Ecological Justice Research Group Website
Social Justice at York St John Twitter
Partners