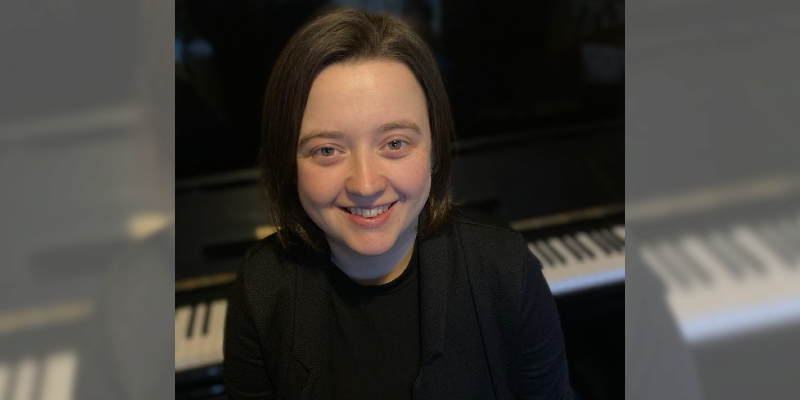 Louise Alp Entertains
Performance
This event has now finished.
Date and time:

Friday 17 June 2022, 12.30pm to 1.15pm

Location:

In-person only
St Helen's Church, St Helen's Square (Map)

Admission:

Free admission, booking not required
Event details
Yorkshire-based soprano Louise Alp first performed in the atmospheric medieval church of St Helen in the 2019 Festival.
She is delighted to be back as it's one of her first solo engagements since the pandemic. This performance is heralding the next chapter for Louise, who returns with a new repertoire.
The programme will feature a collection of folk songs as well as works by Samuel Barber and Felix Mendelssohn. Louise will also perform pieces by Vaughan Williams in celebration of his 150th birthday, and there will be music specifically in honour of the Queen's Platinum Jubilee.
Louise will be accompanied by Matthew Lazenby.
Please note that admission to this event is free and no booking is required, but a retiring collection will be taken.
About the performer
Louise Alp is a young soprano based in Leeds. She studied music at the University of Huddersfield, graduating in 2013. Whilst at university she was a soloist in St Nicholas by Benjamin Britten and performed as a member of a duo with the Chamber Choir at York Early Music centre. In 2019/20 Louise's engagements included recitals at St John the Baptist church in Chester and at Wakefield cathedral. She was the concert soloist for the Huddersfield Choral Society and Horsforth Choral Society for their Faure's Requiem performances in 2019 with conductors Gregory Batsleer and Matthew Lazenby respectively. Louise also gave a recital at Halifax Minster in early March 2020. In February 2022 she was the guest soloist in Matthew Coleridge's Requiem performance at St Wilfrid's, Harrogate. Louise is a regular guest soloist with the Leeds male Voice Choir. She is also a member of the Leeds Masterworks Chorale, the Leeds-based chamber choir Borealis, the Huddersfield Choral Society and Christ Church Choir, Harrogate (where she achieved the RSCM Gold Award). Louise studies with composer and conductor Tim Knight.
Connect with Louise online:
St Helen's Church
St Helen is a parish church in the heart of the city which provides a sacred space for private prayer and communal worship for all residents and visitors alike.
Partners