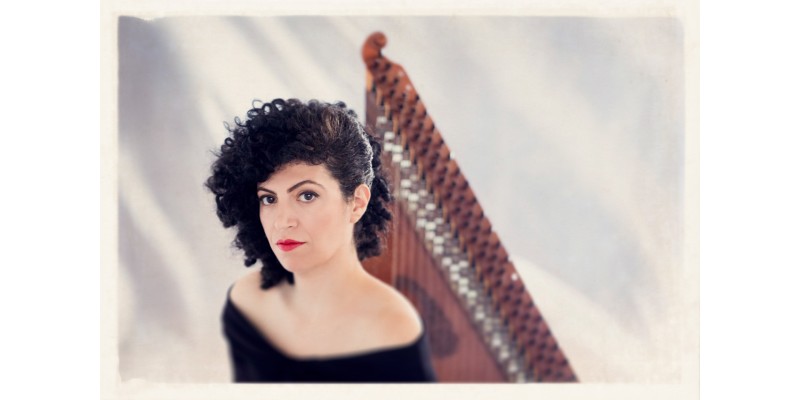 This event has now finished.
Date and time:

Thursday 9 June 2022, 7.30pm to 9.30pm

Location:

In-person only
National Centre for Early Music, Walmgate (Map)

Admission:

£18.00 (£16.00 concessions), booking required
Event details
Join Maya Youssef, who is hailed as 'queen of the qanun', the 78-stringed Middle Eastern plucked zither.
Intense and thoughtful, Maya's music is rooted in the Arabic classical tradition but forges pathways into jazz, Western classical and flamenco styles, exploring the emotional and healing qualities of music. For Maya, the act of playing music is a life- and hope-affirming act, and an antidote to what is happening, not only in Syria, but across the world.
Her latest tour, 'Finding Home' - and the album of the same name - is a journey through memories and the essence of home both within and without. It is about finding that place of peace, that place of softness, comfort and healing, which manifests in everyone in a unique way - from finding home in nature to the people who make us feel that sense of relief and peace.
About the performer
Maya Youssef is a speaker, composer and virtuoso of the qanun who disseminates peace through the healing power of music. Her debut album Syrian Dreams, produced by the legendary Joe Boyd, was highly acclaimed in music press around the world and has led to many awards, performances on prestigious stages such as the BBC Proms and WOMAD, and recognition from the British government of Maya's status as an exceptional artistic talent. Originally from Damascus, Syria, Maya is now based in the UK.
Find out more about Maya on her website
National Centre for Early Music
The National Centre for Early Music (NCEM) is the national advocate of early music in England and a centre of excellence for music-making in the City of York. The NCEM hosts three festivals of early music in Yorkshire, a year-round programme of folk, jazz, early music and world music concerts supported by a significant creative learning programme. NCEM boasts an enviable reputation for blending artistic quality, administrative excellence and creative diversity.
Connect with the NCEM online:
Partners