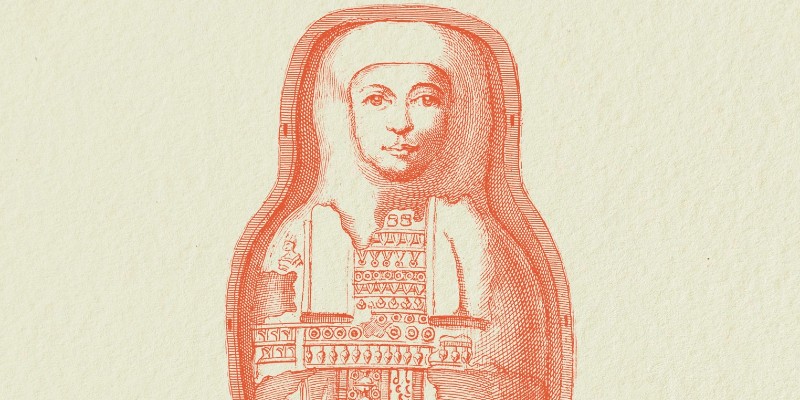 Mummified Angela Stienne
Talk
This event has now finished.
Date and time:

Thursday 16 June 2022, 1pm to 2pm

Location:

Online only

Admission:

Free admission, booking required
Event details
From powdered mummies eaten as medicine to mummies unrolled in public, dissected for race studies and DNA-tested in modern laboratories, there is a lot more to these ancient remains than meets the eye.
Join cultural historian, museum researcher and storyteller Angela Stienne, author of Mummified, as she explores the curious, unsettling and controversial cases of mummies held in French and British museums.
Go on a journey from Paris to London, Leicester and Manchester, from the apothecaries of the Middle Ages to the dissecting tables of the eighteenth century, and, finally, behind the screen of today's computers, to revisit the stories of these bodies that have fascinated Europeans for so long.
Do not miss this entertaining investigation of matters of life and death, of collecting and viewing, and of interactions - sometimes violent and sometimes emotional - that question the essence of what makes us human.
This event will take place live on Zoom Webinar. You'll receive a link to join a couple of days before the event takes place and a reminder an hour before. During the event, you can ask questions via a Q&A function, but audience cameras and microphones will remain muted throughout.
Book sales
You can buy copies of many of our speakers' books from Fox Lane Books, a local independent bookseller and Festival partner. In some cases, author signed bookplates are available too.
About the speaker
Angela Stienne is a cultural historian, museum researcher and storyteller. In 2016 she created the website Mummy Stories, which aims to reshape the discussion around human remains in museums by collecting people's stories of their own encounters.
Connect with Angela online:
Partners