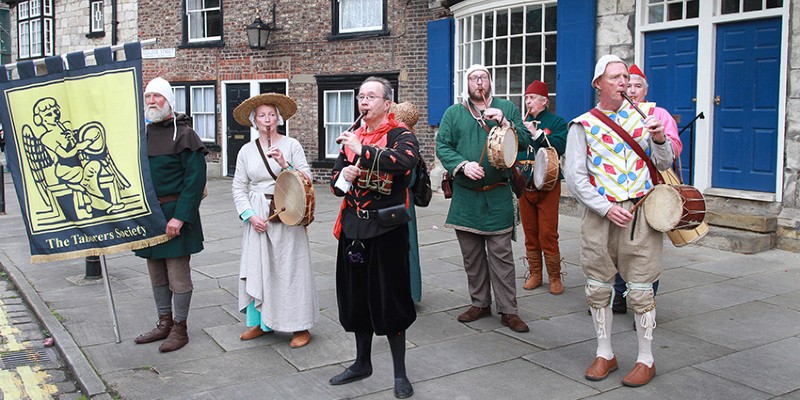 Music and Mysteries Taborers Society and Arbeau Dancers
Performance
This event has now finished.
Date and time:

Saturday 18 June 2022, 7.30pm to 9pm

Location:

In-person only
St Helen's Church, St Helen's Square (Map)

Admission:

Free admission, booking not required
Event details
Come and join the Taborers Society and Arbeau Dancers as they put on an entertaining performance celebrating the pipe and tabor.
The pipe and tabor was essential to medieval professional musicians as the instrument of choice to accompany dancers. Using one hand to beat the rhythm, the taborer uses the other to create glorious melodies on the pipe.
The concert is the highlight of the International Pipe and Tabor Festival, which this year includes performing for the York Mystery Plays.
About the performers
The Taborers Society was founded in 2005. Its purpose is to promote the Pipe and Tabor in all aspects including performance, research, understanding and public profile. The Society holds a number of events, including an annual international festival. The annual symposium explores the history, morphology, music and context of the tabor pipe around the world. The Society's range of activities is wide, from providing period music for the York Mystery Plays to performing 20th-century minimalist work. A repertoire of music for the pipe and tabor is maintained by the Society.
Find out more about the Taborers Society
St Helen's Church
St Helen is a parish church in the heart of the city which provides a sacred space for private prayer and communal worship for all residents and visitors alike.
Partners