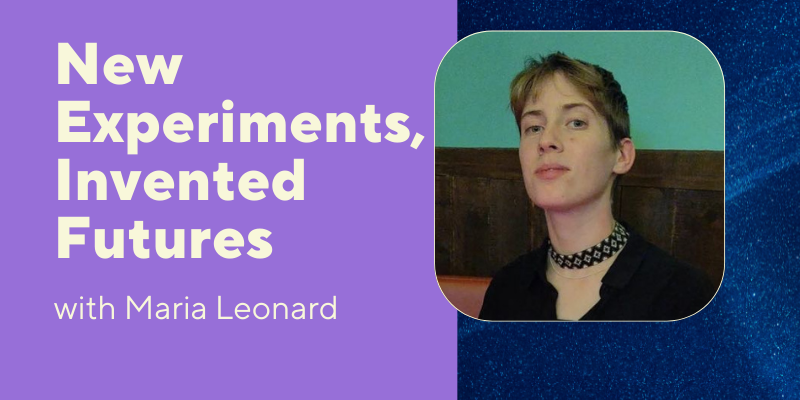 CANCELLED - New Experiments, Invented Futures Maria Leonard
Workshop
This event has now finished.
This event has been cancelled.
Date and time:

Tuesday 14 June 2022, 7pm to 8.30pm

Location:

In-person only
SPARK:York (Map)

Admission:

Free admission, booking required
Event details
Join writer and producer Maria Leonard for an interactive workshop using co-creation, creative writing and shared discussion on the plural trajectories for care, work and technology.
Through the course of the evening, we will look at the relationship between climate justice and other forms of 'futures literacy', or ways of better understanding the role the future plays in what we see and do, such as pluriversal politics, acts of imagination and future forms of governance.
Building on the research produced by the Invented Futures collective, the session will introduce the concepts of worlding and the commons, organising practices, emerging debates around living with technology and the urgent questions around living together.
By centering the potential of imagination and the notion of 'plural futures', we will challenge, question and develop participants' notion of what makes a future, the kinds of people-led organising it takes to meet the demands of current future trajectories, and the imaginative responses that we need going forward.
"Reinvention is possible. Building is possible. What tools have we to build with except hammers, nails, saws - education, learning to think, learning skills? Are there tools that have not yet been invented?" Ursula K. Le Guin
If you are interested in this event but cannot attend in person, this workshop is also available online on Thursday, 16 June. Book your online place here.
About the speaker
Maria Leonard is a writer, researcher and producer who has worked on the cultural aspects of, separately, the future and death. She is currently producer of Invented Futures, facilitator at Theatre Deli, and an associate artist at Spike Island, as well as a poet.
Invented Futures
Invented Futures is a research collective which brings together artists, writers, researchers and technologists around the principles of speculative thinking to reframe dominant ideas about the future and its alternatives. We ask the following questions:
What kind of knowledge, systems and capabilities are required to imagine and build alternative futures?
How might speculation, from thought experiments to fiction, to performance and prototypes, provoke dialogue and change?
Based at Spike Island, Bristol, and with living labs throughout Europe, the collective spans fiction writers, researchers and organisations such as the Centre for Research in the Arts, Humanities and Social Sciences at Cambridge, the Centre for Global Knowledge Studies, UCL Science and Technology, Bristol Digital Futures Institute, the Imagine Festival of Ideas and Politics, and more.
Connect with Invented Futures online: