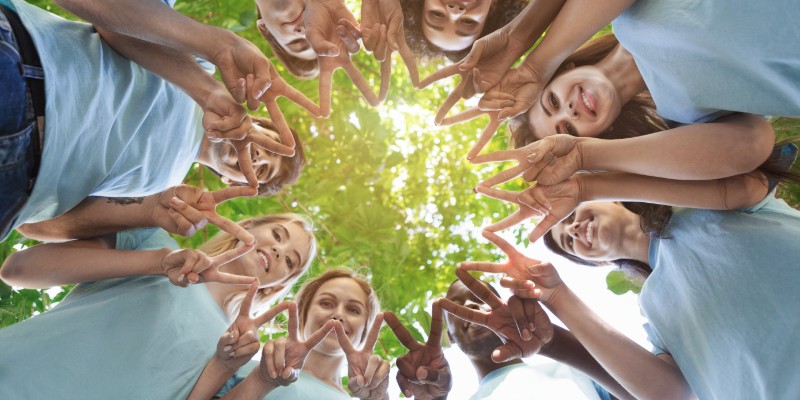 Next Generation Citizens: How are young people shaping the future of democracy? Yves Sintomer, Yumna Hussen, Helen Sunderland and Nathan Méténier - chaired by Tom O'Brien
Talk
This event has now finished.
Date and time:

Friday 17 June 2022, 6pm to 7.15pm

Location:

Online only

Admission:

Free admission, booking required
Event details
We are living in challenging times. The economic crisis triggered in 2008, the refugee crisis, the Covid-19 pandemic and the climate crisis have been amongst recent events which have resonated throughout the world.
Many young people have been left disaffected with the establishments leading their countries and may have felt disengaged from politics, struggling to find a way to find a voice. They are also less likely to use 'traditional' media, such as TV news programmes and printed newspapers, to be informed about and engage with issues of national and international importance, instead looking to other online sources which are often more interactive.
Yet, this is a generation who are keenly aware of the big issues, including racism, ecology, sexism and equality, and climate change. They have a role in shaping society.
Come along as we explore the ways in which younger generations learn from each other; how those with global or national responsibilities can engage with them and harness their creativity; and what the future of citizen engagement might look like.
This event will take place live on Zoom Webinar. You'll receive a link to join a couple of days before the event takes place and a reminder an hour before. During the event, you can ask questions via a Q&A function, but audience cameras and microphones will remain muted throughout.
This event is part of the Festival Focus Shaping Society: Challenges and opportunities. Why not also join the in-person session, One Planet, One Health?
Presented in collaboration with the French Embassy in the UK.
About the speakers
Yves Sintomer is a Researcher at the Maison Française d'Oxford and a Professor in political science at Paris 8 University. He was the deputy director of the Centre Marc Bloch Berlin and is an Honorary Senior Fellow at the Institut Universitaire de France - one of the French most prestigious institutions - and is currently an Associate Member at Nuffield College, University of Oxford. He was invited as a scholar or professor to various universities: Harvard, Yale, University College London, Tsinghua University (Beijing), Peking University, Institut für Sozialforschung (Frankfurt, Germany), Goethe University Frankfurt (Germany), Bask Country University, Neuchâtel and Lausanne Universities, Complutense-Madrid, UCL (Belgium), Catania (Italy), Academia Sinica (Taipei), Science Po Paris, Science Po Lille. His most recent books include 'Participatory Budgeting in Europe; Democracy and Public Governance' (with C. Herzberg and A. Röcke), Routledge, London, 2016; and 'Sortition and Democracy. Practices, Tools, Theories', Imprint Academic, Exeter, 2020. His writings are published in 19 languages.
Yumna Hussen

is a Youth MP for Birmingham; Chair of Birmingham Aspiring Youth Council, and

Chair of Birmingham BiteBack Youth Board.
Helen Sunderland is a historian of political culture, education and childhood in modern Britain. Her PhD explored schoolgirls' political socialisation in the decades before women's suffrage. It highlighted girls' active participation in parliamentary, electoral, imperial, and suffrage politics at the turn of the twentieth century. At the same time as political parties began to mobilise women, she argued, another transformation in the gendering of politics was taking place among children and adolescents at school. She is currently writing a monograph based on her doctoral research. Playing Parliament: Schoolgirls and Politics in England, 1870-1914 will offer a new history of the path to equal suffrage, using the histories of childhood and education to reshape our understanding of political participation during the nation's transition to democracy. She is also starting work on a new project tracing the history of youth democracy in Britain since 1928, in school councils, local authority youth councils and youth parliaments.
Nathan Méténier
is a 22-year-old climate and environmental justice advocate. Nathan is one of seven members of
Antonio Guterres' Youth Advisory Group on Climate Change
. He is part of different youth climate networks in Europe, notably as Advocacy and Partnerships Manager of
Youth and Environment Europe
. In 2019, he founded
Generation Climate Europe
- the largest coalition of youth-led networks on climate and environmental issues at the European level. Nathan also co-chaired the youth pre-COP26 and is a former Board member of the
European Environmental Bureau
. In 2020, he was nominated with five other young European for the "Young European of the Year 2020" award. He Graduated from Sciences Po Grenoble in France and he is currently pursuing his master's degree in environmental policy and regulation at the London School of Economics.
Dr Tom O'Brien
is a Lecturer in Political Sociology at the University of York. He grew up on a farm in New Zealand's King Country region. He was inspired to complete a Bachelor of Social Sciences degree at the University of Waikato by a charismatic lecturer on a polytechnic course, who pushed them in new directions. Tom followed this with an Honours year at Victoria University Wellington and a Masters at the University of Auckland. After two years working in the New Zealand Ministry of Health, he moved to Melbourne to pursue a PhD, exploring whether democratisation leads to improved environmental standards and factors that may influence such outcomes. Tom travelled to Spain, Portugal, Bulgaria and Romania for extended fieldwork, speaking to officials, civil society representatives and experts about democratisation and the environment. He joined the Department of Sociology in August 2018, as lecturer in political sociology. He has previously held academic posts in the UK, New Zealand and Australia, most recently at Cranfield University at the Defence Academy of the United Kingdom. He is Associate Editor of
Kōtuitui: New Zealand Journal of Social Sciences Online
.
Partners