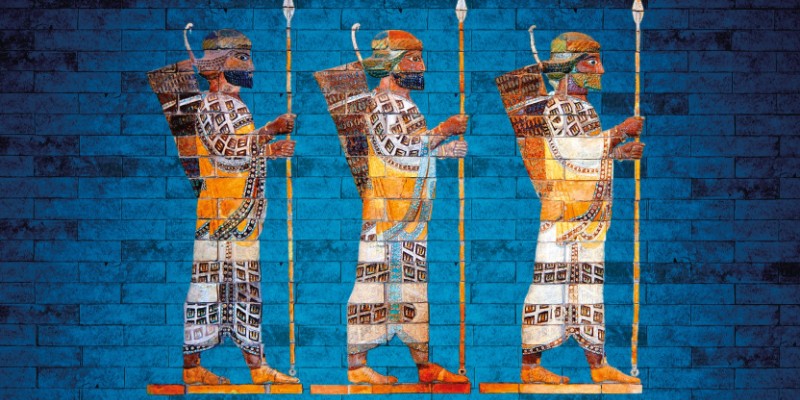 Persians: The age of the great kings Lloyd Llewellyn-Jones
Talk
This event has now finished.
Date and time:

Thursday 16 June 2022, 6pm to 7pm

Location:

Online only

Admission:

Free admission, booking required
Event details
Join Professor Lloyd Llewellyn-Jones as he unveils the authentic, definitive new history of the Persian Empire, the world's first superpower.
The Great Kings of Persia ruled over the largest Empire of antiquity, stretching from Libya to the Steppes of Asia, and from Ethiopia to Pakistan. At the heart of the Empire was the fabled palace-city of Persepolis where the Achaemenid monarchs held court in unparalleled grandeur. From here, Cyrus the Great, Darius, Xerxes and their heirs passed laws, raised armies and governed their multicultural Empire of enormous diversity.
The Achaemenids, however, were one of the great dysfunctional families of history. Brothers fought brothers for power; wives and concubines plotted to promote their sons to the throne; and eunuchs and courtiers vied for influence and prestige.
Our understanding of the Persian Empire has traditionally come from the histories of Greek writers such as Herodotus - and as such, over many centuries, our perspective has been skewed by ancient political and cultural agendas. Professor Lloyd Llewellyn-Jones, however, calls upon original Achaemenid sources, including inscriptions, art and recent archaeological discoveries in Iran, to create an authentic 'Persian Version' of this remarkable first great empire of antiquity - the age of the Great Kings.
This event will take place live on Zoom Webinar. You'll receive a link to join a couple of days before the event takes place and a reminder an hour before. During the event, you can ask questions via a Q&A function, but audience cameras and microphones will remain muted throughout.
Book sales
You can buy copies of many of our speakers' books from Fox Lane Books, a local independent bookseller and Festival partner. In some cases, author signed bookplates are available too.
About the speaker
Lloyd Llewellyn-Jones was born in Cefn Cribwr, Wales, and is Professor of Ancient History at Cardiff University and Director of the Ancient Iran Program for the British Institute of Persian Studies. He has previously taught at Edinburgh University, where he was Professor of Ancient Iranian and Greek History. He has spent extensive time in Iran and is a specialist in the histories and cultures of Persia, the Near East and Greece. He has also appeared on the BBC, Channel 4, in The Times and other media outlets. His previous books include King and Court in Ancient Persia, Ctesias' History of Persia, The Culture of Animals in Antiquity and Designs on the Past: How Hollywood Created the Ancient World.
Partners