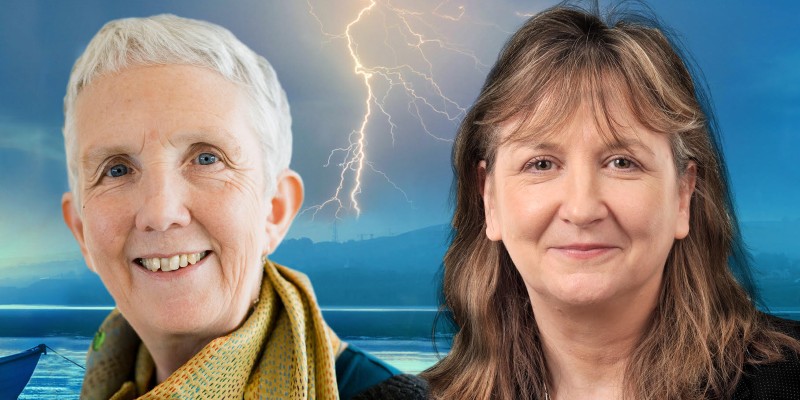 Plotting Murder: An expert's guide Ann Cleeves and Lorna Dawson
Talk
This event has now finished.
Date and time:

Friday 24 June 2022, 7pm to 8pm

Location:

In-person only
Tempest Anderson Hall, Museum Gardens (Map)

Admission:

Free admission, booking required
Event details
Join award-winning crime writer Ann Cleeves and forensic soil science expert Professor Lorna Dawson of the James Hutton Institute to discover the connections between writing murder and evaluating soil data.
Forensic soil science is an increasingly important discipline, involving soils, minerals, dusts, plants and rock fragments to determine provenance, i.e., to provide a chronology of their ownership, custody or location, and to provide information on place. This means that forensic soil science can contribute significantly to cold case investigations, both in providing intelligence and evidence in court.
Knowledge of the science and importance of soil data is crucial to crime writers, who want the murders and investigations taking place in their novels to be as realistic as possible.
In this exciting in-conversation event, Professor Lorna Dawson will discuss her work solving various high-profile cold cases, advising as an expert witness and helping crime writers such as Ann with the forensic side of their stories. Ann will talk about what it's like to work with forensic experts like Professor Dawson and how she goes about plotting the murders in her bestselling novels filled with mystery and suspense.
Image credit: Ann Cleeves portrait © Marie Fitzgerald Photography
Book sales
You can buy copies of many of our speakers' books from Fox Lane Books, a local independent bookseller and Festival partner. In some cases, author signed bookplates are available too.
About the speakers
Ann Cleeves, OBE is an award-winning crime writer with several TV dramas based on her bestselling books. She is the author of more than thirty-five critically acclaimed novels and, in 2017, was awarded the highest accolade in crime writing, the CWA Diamond Dagger. She is the creator of popular detectives Vera Stanhope, Jimmy Perez and Matthew Venn, who can be found on television in ITV's Vera, BBC One's Shetland and ITV's The Long Call, respectively. The TV series and the books they are based on have become international sensations, capturing the minds of millions worldwide.
Ann worked as a probation officer, bird observatory cook and auxiliary coastguard before she started writing. She is a member of 'Murder Squad', working with other British northern writers to promote crime fiction. Ann also spends her time advocating for reading to improve health and wellbeing and supporting access to books. In 2021 her Reading for Wellbeing project launched with local authorities across the North East. She lives in Northumberland where the Vera books are set.
Connect with Ann online:
Professor Lorna Dawson, CBE, FRSE, FRSA is Head of the Soil Forensics Group at the James Hutton Institute, Visiting Professor at RGU, Chartered Scientist and Fellow of the Institute of British Soil Scientists. She holds an Expert Witness Certificate for England and Wales and in Scots law and is a registered expert with the National Crime Agency. She works with police forces, lawyers and agencies in soil-trace-evidence provision and regularly attends court as an expert witness. She has a diploma in Science Communication and her advice is widely sought on aspects of soil science and forensic science in various media, including news, education and drama. In 2017 she was awarded the Pride of Britain Special Recognition award and received a CBE in 2018 for her services to soil and forensic science.
She has published over 100 scientific papers, is Knowledge Exchange Lead for the Environment for SEFARI (Scottish Environment Food Agriculture Research Institutes) and sits on the Environment Protection Scotland Land Quality Expert Advisory Group. She authored the RSA Scotland Food, Farming and Countryside (FFCC) report (2019), is co-chair of the current devolved Scotland inquiry, was a member and co-author of the Scottish Government's farmer led report of the Arable Climate Change Group (July 2021), and is a member of the Scottish government's Academic Advisory Panel of the Agriculture Reform Implementation Board (ARIOB).
Connect with Lorna online:
Partners