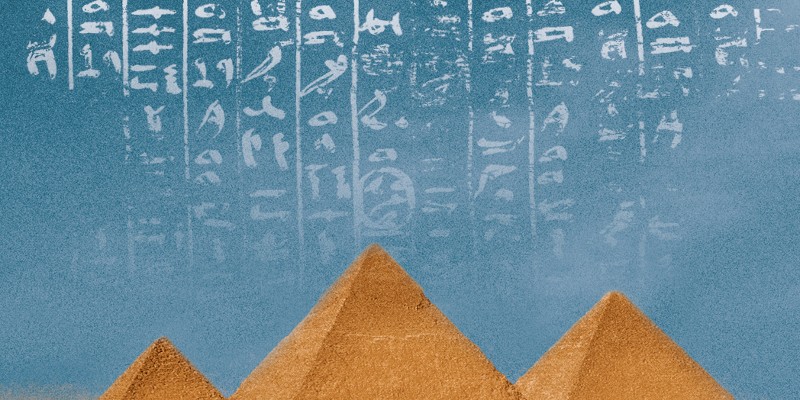 The Red Sea Scrolls: How ancient papyri reveal the secrets of the pyramids Pierre Tallet and Mark Lehner
Talk
This event has now finished.
Date and time:

Monday 20 June 2022, 8pm to 9pm

Location:

Online only

Admission:

Free admission, booking required
Event details
Pierre Tallet's discovery of the Red Sea Scrolls - the world's oldest surviving written documents - in 2013 was one of the most remarkable moments in the history of Egyptology.
These papyri, written some 4,600 years ago, combined with Mark Lehner's research and theories, change what we thought we knew about the building of the Great Pyramid at Giza, the only remaining Wonder of the Ancient World.
Join the archaeological detectives, Pierre Tallet and Mark Lehner, to find out how King Khufu's men built the Great Pyramid at Giza and how the ancient Egyptians were able to build monuments that survive to this day.
Image credit: © Thames & Hudson
This event will take place live on Zoom Webinar. You'll receive a link to join a couple of days before the event takes place and a reminder an hour before. During the event, you can ask questions via a Q&A function, but audience cameras and microphones will remain muted throughout.
Book sales
You can buy copies of many of our speakers' books from Fox Lane Books, a local independent bookseller and Festival partner. In some cases, author signed bookplates are available too.
About the speakers
Pierre Tallet, born in 1966, is an alumnus of the Ecole normale Superieure and former member of the French institute of Archaeology in Cairo. He is now the chair of Egyptology at the Sorbonne. Tallet served as the President of the French Society of Egyptology from 2009 to 2021 and is also a senior member of the Institut Universitaire de France. Since 2001, he has directed or co-directed several archaeological projects in Egypt and Sudan, in particular on the Red Sea seashore, where the old pharaonic harbours of Ayn Soukhna and Wadi el-Jarf were successively identified. He still leads an annual archaeological campaign on the latter site, where the most ancient papyri known to date were found between 2013 and 2018.
Dr Mark Lehner is the Director and President of Ancient Egypt Research Associates, Inc. (AERA). He has carried out archaeological research in Egypt for nearly forty years. He mapped the Great Sphinx and discovered a major part of the 'Lost City of the Pyramids' at Giza.
Partners