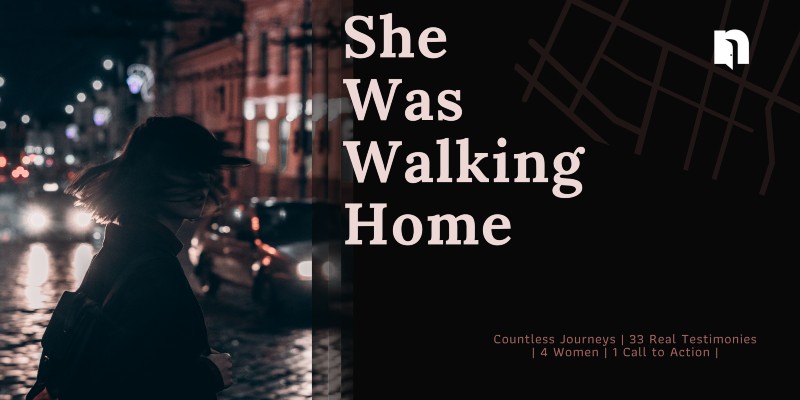 She Was Walking Home Next Door But One
Performance
This event has now finished.
Date and time:

Tuesday 14 June 2022, 7.30pm to 9pm

Location:

In-person only
School of Arts and Creative Technologies East, Campus East, University of York (Map)

Admission:

Free admission, booking required
Event details
How do we keep women safe?
The conversation continues. And the loudest voices call for self defence classes, rape alarms, trackers and a dress code.
The conversation needs to change. The voices of women need to be at the centre, but the responsibility and accountability lies elsewhere.
She Was Walking Home is a new piece of testimonial theatre based on the real-life experiences of 33 women living, working and studying in York. Originally created as an audio walk around the city centre, Next Door But One brings the live stage version of these stories of fear, harassment, suspicion, disappointment, anger and hope to venues across York to make sure the right voices are still being heard.
Join the conversation. Be a part of the change.
The show will last 1 hour and will be followed by a Q&A.
Written by Rachel Price
Directed by Kate Veysey
Cast: Fiona Baistow, Anna Johnston, Emma Liversidge-Smith, Mandy Newby
About Next Door But One
We are an award-winning LGBTQ+ and disability-led theatre company based in York, promoting creative skills and encouraging community cohesion, particularly with those who face barriers to accessing theatre. Our established programme focuses on workshops and performances for and with cohorts of the community with disabilities, mental health problems, those experiencing bereavement, those who are carers and individuals from the LGBTQ+ community. Our mission is to connect people to their creativity and community through the theatre we make and the stories we tell. Our vision is for the arts to play an integral role in unleashing the true potential of every community; to tell every story, to hear every voice and champion the contribution every person makes. Through theatre we can show a world where everything is possible!
Connect with Next Door But One online:
#shewaswalkinghomeyork
Partners