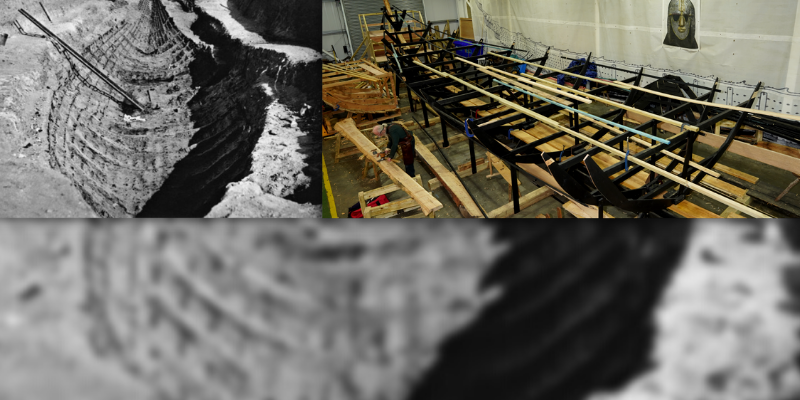 Flagship of Early England: Reconstructing the Sutton Hoo ship Martin Carver
Talk
This event has now finished.
Date and time:

Tuesday 21 June 2022, 1pm to 2pm

Location:

Online only

Admission:

Free admission, booking required
Event details
In 1939, at Sutton Hoo in east Suffolk, landowner Mrs Edith Pretty and archaeologist Basil Brown found - by chance - the imprint of a spectacular 90ft long rowing ship.
In a chamber amidships were discovered a fabulous range of weapons, regalia, textiles, and personal effects of gold, silver and bronze. Many of these objects have been repaired or restored and are now viewable in the British Museum.
But the largest artefact of all, the ship, has never been reconstructed. Without this we will never know what it looked like, how it performed or why it was held in such high esteem.
To make this happen, the Sutton Hoo Ship's Company was formed. The goal is to examine the archaeological findings and build a full size reconstruction of the ship in all her glory.
Once the ship is built, an exploration of the major English rivers and shore lines familiar to the earliest English will begin, to learn how these waters served seventh-century people, and to encourage our own generations to give them new respect today.
The aim of this exciting project is to inspire enthusiasm in people from all walks of life to discover how early Europeans built and used their watercraft and interacted with the rivers and sea.
Join Martin Carver, Chair of the Sutton Hoo Ship's Company, to learn about the progress so far and the ambitious plans for the future. Feel free to contribute by making observations and asking questions about this great experiment.
This event will take place live on Zoom Webinar. You'll receive a link to join a couple of days before the event takes place and a reminder an hour before. During the event, you can ask questions via a Q&A function, but audience cameras and microphones will remain muted throughout.
Book sales
You can buy copies of many of our speakers' books from Fox Lane Books, a local independent bookseller and Festival partner. In some cases, author signed bookplates are available too.
Image copyright: © Sutton Hoo Ship's Company
About the speaker
Professor Martin Carver FBA has been a professional archaeologist since 1974, and has excavated and researched in England, Scotland, Ireland, France, Italy, Sicily and Algeria. He directed the latest campaign of research at Sutton Hoo from 1983 to 2005 and is still closely involved with the site. He founded the Sutton Hoo Society in 1984 and has lectured on the find in Europe and America. He was appointed professor and head of the department of archaeology at the University of York in 1986 and has continued to serve the University as an emeritus. He is the author of Sutton Hoo: Burial Ground of Kings? (1998, 2014), Portmahomack: Monastery of the Picts (2016), The Sutton Hoo Story: Encounters with Early England (2017) and Formative Britain: An Archaeology of Britain, Fifth to Eleventh Century AD (2019). He has been Chair of the Sutton Hoo Ship's Company since August 2021.
Sutton Hoo Ship's Company
The Sutton Hoo Ship's Company is a registered charity based on the waterfront at Woodbridge in Suffolk, across the River Deben from Sutton Hoo. It has a board of nine trustees, a professional project manager, shipwright, assistant shipwright and treewright and over 60 volunteer shipbuilders and helpers. It has an advisory body called the WITAN consisting of academics from Oxford, Cambridge, Southampton and York; commercial yacht builders; representatives from the National Trust's Sutton Hoo site and other local institutions; and a large body of Suffolk farmers, many of whom have supplied them with oak.
Donate to help fund the reconstruction of the Sutton Hoo ship
Partners