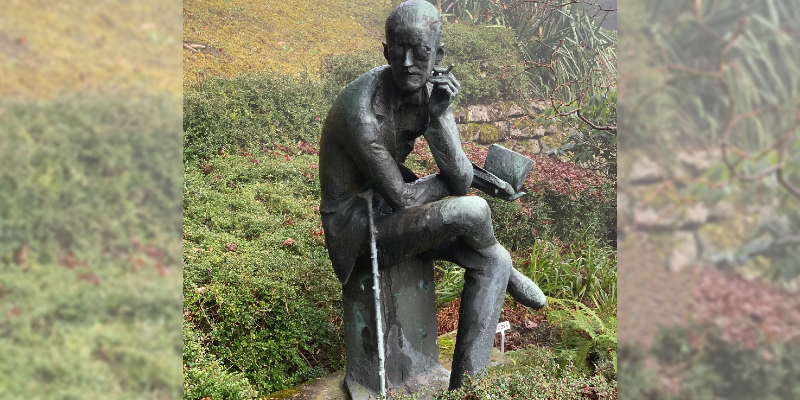 The Ten-Minute Ulysses Matthew Campbell
Performance
Talk
This event has now finished.
Date and time:

Thursday 16 June 2022, 6.30pm to 8pm

Location:

In-person only
Ron Cooke Hub, Campus East, University of York (Map)

Admission:

Free admission, booking required
Event details
James Joyce's Ulysses was published in Paris in 1922. It details the travels around one city - Dublin - on one day - 16 June 1904 - by one Leopold Bloom.
So successful was Ulysses that 16 June became 'Bloomsday'.
Join Matthew Campbell as he hosts a variety of critics and artists from the University of York for an unforgettable Bloomsday salon to celebrate the 100th anniversary of Joyce's masterpiece.
Contributors include York's own Joyce and modernism experts: James Williams from English, Michael White from History of Art, and Catherine Laws and Daniel March from music. The eminent Joycean Derek Attridge will also speak at the event. Matthew Campbell from English will be the MC.
There will be short talks and musical turns on some aspects of the book, from its relationship with Homer to its deep engagement with music hall song. Along the way we will think about such things as censorship and experiment, performance and politics, the modern novel and the human.
Refreshments (alcoholic or non-alcoholic) included.
This event is supported by the University of York's Centre for Modern Studies.
About the speakers
Derek Attridge is professor emeritus at the University of York. He has published many books on modernism, theory, South African literature and poetry. He is well known as a Joyce scholar, having published several works on this author and served for many years as a Trustee of the International James Joyce Foundation.
Matthew Campbell has written widely on poetry from the late eighteenth century up to the present day. Recent publications include a book about nineteenth-century poetry from and about Ireland and various articles and essays on Irish poetry and poetics as well as on James Joyce.
Catherine Laws is a pianist and musicologist and researches performance; contemporary music and experimental music practices; music and embodiment/subjectivity/identity; music and language; Samuel Beckett.
Daniel March is a musicologist and composer. He researches the analysis of contemporary music; minimalism; specific non-western repertoire and traditions.
Michael White is an expert in twentieth-century European avant-gardes, especially Dada and Constructivism; modernist architecture and design.
James Williams's areas of interest are poetry and poetics; the literature of the long nineteenth century (British, American, and French); the literature of nonsense; formal and stylistic dimensions of writing; and the Anglo-American libretto.
Partners