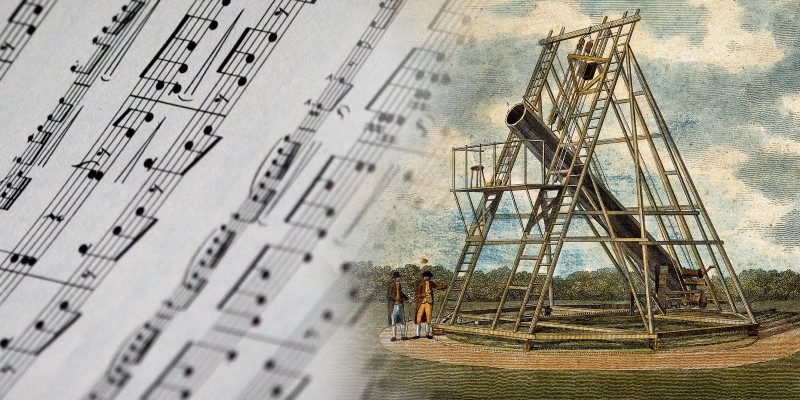 The Herschels: Music and science
Panel discussion
Talk
This event has now finished.
Date and time:

Sunday 19 June 2022, 4.30pm to 6.15pm

Location:

In-person only
Rymer Auditorium, Campus West, University of York (Map)

Admission:

Free admission, booking required
Event details
Join us for an exploration of the extraordinary creative imaginations of William and Caroline Herschel, both in astronomy and music. Celebrate their achievements with keynote speaker Tom McLeish, who reveals what connects these two shared worlds.
Tom will explore the meaning of the move from astronomy to astrophysics that William initiated through the questions he raised, and discuss the consequences of his realisation that the future of observational astronomy lay in large aperture telescopes. Thinking of the James Webb Space Telescope, which was launched in December 2021 with the purpose of finding the first galaxies that formed in the early universe, this reflection on William Herschel's realisations could not be more topical.
Tom's insightful keynote will be followed by a panel discussion, chaired by Rachel Cowgill of the University of York and Herschel biographer Woody Sullivan, and there will also be a reception including new music inspired by science.
Come along for a celebration of two extraordinary figures in music and science.
Supported by the John Templeton Foundation.
About the speakers
Professor Tom McLeish, FRS, FRSC is a physicist with very interdisciplinary leanings - and a similarly broad job. As Professor of Natural Philosophy in the Department of Physics at the University of York, Tom spends about 40% of his time working in collaboration between the sciences, humanities and social sciences, so he is also affiliated with the University's Centre for Medieval Studies and Humanities Research Centre. Tom has enjoyed leading several radically interdisciplinary research projects, and contributed to best practice in running and evaluating interdisciplinary research.
Rachel Cowgill is a Professor of Music and Research Theme Champion for Creativity at the University of York. Her interest in William Herschel's musical activities in Yorkshire is part of her general research into British music and musical contexts, and initially featured in an essay for her volume Music in the British Provinces 1690-1914 (Ashgate, 2007), co-edited with Peter Holman. Rachel and Peter are co-founding editors of the book series 'Music in Britain 1600-2000' for Boydell & Brewer.
Woody Sullivan is an astronomer and historian of science, and emeritus professor at the University of Washington, Seattle, USA. He has designed many public sundials in the Seattle region, as well as the first extraterrestrial sundial on NASA's Mars Rovers.
Partners