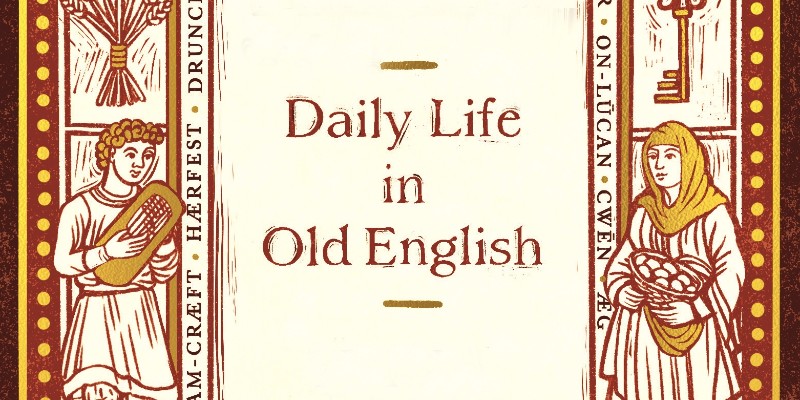 The Wordhord: Daily life in Old English Hana Videen
Talk
This event has now finished.
Date and time:

Tuesday 21 June 2022, 6pm to 7pm

Location:

Online only

Admission:

Free admission, booking required
Event details
Old English is the language you think you know until you actually hear or see it. Unlike Shakespearean English or even Chaucer's Middle English, Old English - the language of Beowulf - defies comprehension by untrained modern readers. Used throughout much of Britain more than a thousand years ago, it is rich with words that haven't changed (like word), others that are unrecognisable (such as neorxnawang = paradise) and some that are mystifying even in translation (e.g., gafol-fisc = tax-fish).
Hana Videen, author of The Wordhord, presents a glorious trove of these gems and uses them to illuminate the lives of the earliest English speakers. Discover a world where choking on a bit of bread might prove your guilt, where fiend-ship was as likely as friendship and where you might grow up to be a laughter-smith.
Let Hana take you on a journey through Old English words and customs related to …
Practical daily activities (eating, drinking, learning, working);

Relationships and entertainment;

Health and the body, mind and soul;

The natural world (animals, plants and weather);

Locations and travel (the source of some of the most evocative words in Old English);

Mortality, religion and fate;

And the imagination and storytelling.
Explore the magical roots of the language you're reading right now: you'll never look at - or speak - English in the same way again.
This event will take place live on Zoom Webinar. You'll receive a link to join a couple of days before the event takes place and a reminder an hour before. During the event, you can ask questions via a Q&A function, but audience cameras and microphones will remain muted throughout.
Book sales
You can buy copies of many of our speakers' books from Fox Lane Books, a local independent bookseller and Festival partner. In some cases, author signed bookplates are available too.
About the speaker
Hana Videen has been hoarding Old English words since 2013, when she began tweeting one a day. Now more than 25,000 people follow these gems from her wordhord. A writer and blogger, she holds a PhD in Old English from King's College London and lives in Toronto.
Connect with Hana online:
Partners