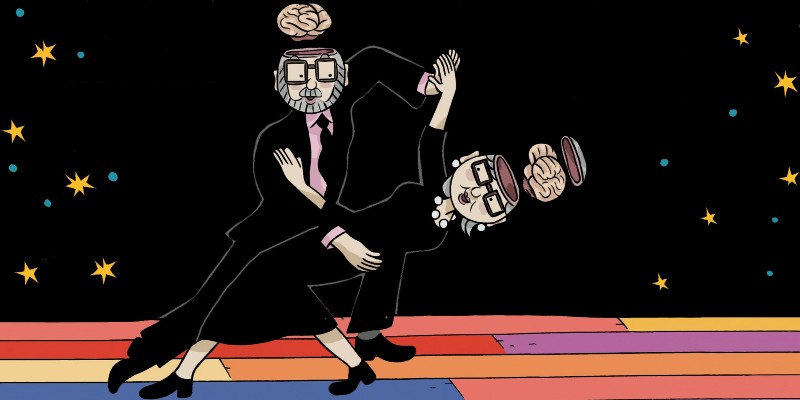 Two Heads: Where two neuroscientists explore how our brains work with other brains Uta, Chris and Alex Frith and Dan Locke
Talk
This event has now finished.
Date and time:

Monday 20 June 2022, 6pm to 7pm

Location:

Online only

Admission:

Free admission, booking required
Event details
Professors and husband-and-wife team Uta and Chris Frith have pioneered major studies of brain disorders for almost fifty years. Working with their son, Alex Frith, and artist Daniel Locke, they now produced Two Heads, a brilliantly illustrated journey through the wonders and mysteries of the human brain, which, they explain, has evolved to work cooperatively.
Join Uta, Chris, Alex and Daniel for an exploration of fascinating questions such as:
Are people instinctively selfish or kind?

How do people behave when they're in pairs - are they pitted against each other or working together?

Is it better to surround yourself with people who are similar to yourself or different?

And are two heads really better than one?
This event will take place live on Zoom Webinar. You'll receive a link to join a couple of days before the event takes place and a reminder an hour before. During the event, you can ask questions via a Q&A function, but audience cameras and microphones will remain muted throughout.
Book sales
You can buy copies of many of our speakers' books from Fox Lane Books, a local independent bookseller and Festival partner. In some cases, author signed bookplates are available too.
About the speakers
Two Heads is the work of four heads put together: Uta Frith, Christopher Frith, Alex Frith and Daniel Locke.
Uta Frith, an expert of both autism and dyslexia, has been ranked one of the most eminent research psychologists of the modern era and currently serves as the President of the British Science Association.
Christopher Frith, psychologist and professor emeritus at the Wellcome Trust Centre for Neuroimaging, has been ranked among the ten most influential brain scientists of the modern era. He is a pioneer in the use of brain imaging, and was a senior member of the team that discovered enlargement of the hippocampus in the brains of London taxi drivers.
Alex Frith, their son, is a publisher and writer at Usborne Publishing.
Daniel Locke is a Brighton-based artist and comics creator who has worked with Arts Council England, the Wellcome Trust and the National Trust.
Partners