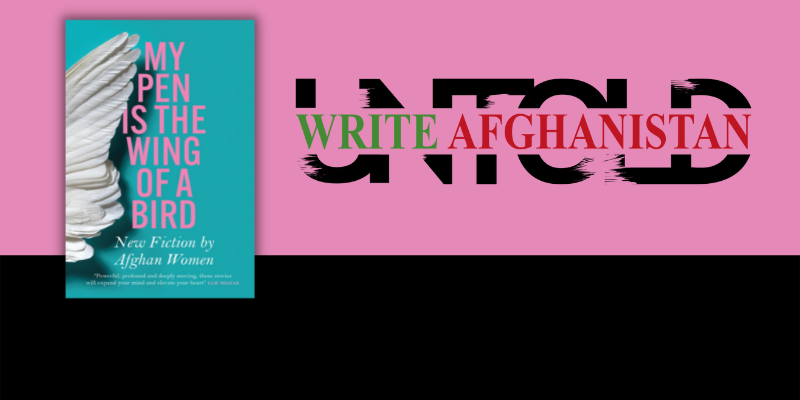 Untold Stories: The original and unexpected stories of Afghan women writers Lucy Hannah, Parwana Fayyaz, Sadaf Saaz (Siddiqi) and Fatema Haidari
Panel discussion
This event has now finished.
Date and time:

Monday 20 June 2022, 1pm to 2pm

Location:

Online only

Admission:

Free admission, booking required
Event details
Join a panel of remarkable women discussing the Untold: Write Afghanistan project.
Untold is a development programme for female writers in marginalised communities, particularly in areas of conflict and post-conflict. Through this project, writers who are currently unable to tell their stories beyond their immediate communities have opportunities to develop their craft, share their stories with wider communities in their own languages and reach new audiences through translation into English, across the globe.
The launch project of Untold: Write Afghanistan is designed to:
Develop the craft of Afghan women writers, primarily in that country;

Connect them with each other to form an emerging creative community;

Amplify these less-heard voices by giving a platform to their stories internationally;

Promote stories that enhance international understanding of the lives behind those voices;

And contribute towards the development of literary infrastructure, principally in the form of editors and translators, to benefit Afghan women writers.
The Untold - Write Afghanistan collection introduces extraordinary voices from the country's two main linguistic groups (Pashto and Dari) with original, vital and unexpected stories, developed over two years through the project. The resulting anthology, My Pen Is the Wing of a Bird, comes at a pivotal moment in Afghanistan's history, when these voices must be heard.
This event will take place live on Zoom Webinar. You'll receive a link to join a couple of days before the event takes place and a reminder an hour before. During the event, you can ask questions via a Q&A function, but audience cameras and microphones will remain muted throughout.
Book sales
You can buy copies of many of our speakers' books from Fox Lane Books, a local independent bookseller and Festival partner. In some cases, author signed bookplates are available too.
About the speakers
Lucy Hannah is the creative producer and programme director of Untold - Write Afghanistan. She founded and led Commonwealth Writers, which operates across 53 countries, particularly in areas with little or no creative industries. During her time at the BBC, she established the BBC Writer's Room, which discovers, develops, and champions new writing talent. She has worked with writers in areas of conflict and post-conflict, including Afghanistan, Chechnya, Pakistan, Sri Lanka, South Sudan and North East Nigeria. She is a Visiting Research Fellow at King's College, London, Director of the BOCAS LitFest in Trinidad, and a Trustee of Vital Xposure Theatre.
Connect with Lucy online:
Dr Parwana Fayyaz was born in Kabul, Afghanistan, in 1990. From the age of seven to sixteen, she was raised in Quetta, Pakistan. After finishing high school in Kabul, she enrolled in an English language immersion program and subsequently began her undergraduate studies in Chittagong, Bangladesh. She transferred to Stanford University and earned both her B.A. in 2015, with a major in Comparative Literature (with Honors) and a minor in Creative Writing (Poetry). She moved to Cambridge University to pursue a PhD in Persian Studies at Trinity College in September of 2016 and took up a Junior Research Fellowship as the Carmen Blacker Fellow at Peterhouse, Cambridge University in October 2020.
Connect with Parwana on Twitter
The poet, writer and women's rights activist Sadaf Saaz (Siddiqi) was born in Princeton, New Jersey, in 1968 and spent her childhood in Great Britain. When she was 16 years old, she moved with her parents to their native country of Bangladesh. At that point, Saaz had little command of her parents' mother tongue and was also used to the British school system. She found it difficult to adjust to such an alienating environment and found refuge and solace in the world of literature. After finishing school, she chose to pursue a degree in molecular biology at Cambridge University, after which she moved back to Bangladesh, where she became an entrepreneur and got married.
During this time, she also developed a serious interest in poetry and published her very first collection of poems 'Sari Reams' (2013). Her work is inspired by a deep commitment to political issues and consistently thematizes the injustices suffered by women in her country. Her repertoire also includes love poetry, combining different rhyme patterns and mixing Bengali with English in easy flowing lines. Indeed, she developed a distinctive, dynamic style that emulates the pulse of life in contemporary Dhaka. Saaz explained the title of her volume of poetry in the following manner: 'The sari for me is a symbol of grace, beauty and versatility - connecting and encapsulating a great body of tradition, stories and wisdom, with the present.'
In 2014, her 'Je Kotha Jayna Bola' monologues were produced for the theatre and premiered under the direction of Naila Azad. In these monologues, which were shown nationwide, Saaz portrays fifty case studies of women from different Bangladeshi regions and explores the problematic position of women in society. For example, she tells the story of Konika, who marries at the age of twelve and goes on to endure violence and sexual abuse. Or the story of a woman who doesn't realise she is marrying an impotent man. She also tells the story of same-sex relationships stigmatized by society. These monologues seek to break the silence surrounding sexuality and women in Bangladesh.
In 2011, Saaz co-founded the annual Hay Festival Dhaka, which took its name from the eponymous event in Wales. She continues to act as a director and the producer of that festival, now known as Dhaka Lit Fest, which focuses on English-speaking literature being generated by a younger generation of writers, as well as creating a platform for the rich, diverse written and oral literature of Bangladesh. At the moment, Saaz is working on her first novel. She lives in Dhaka.
Writer and activist Fatema Haidari was born on 21 March 1998. She graduated from Sayed Mohammad Qanad high school Herat-Afghanistan. She commenced Herat University, Faculty of Languages and Literature English Department. She could not proceed her educations due to the security deterioration and, like hundred and thousand Afghan families, she fled the country. She was one of the pro-active students in the university, she attended seminars, workshops and debate sessions. She is a fiction writer and one of her fiction writing pieces is part of the Untold: Write Afghanistan anthology, My Pen is the Wing of a Bird.
Untold
Untold Narratives works to develop and amplify the work of writers marginalised by social, geopolitical or economic isolation, particularly those in areas with recent or ongoing conflict. Its editors and translators work collaboratively with writers to develop their craft, connect them to one another, and share their stories with readers worldwide.
Connect with Untold online:
Partners