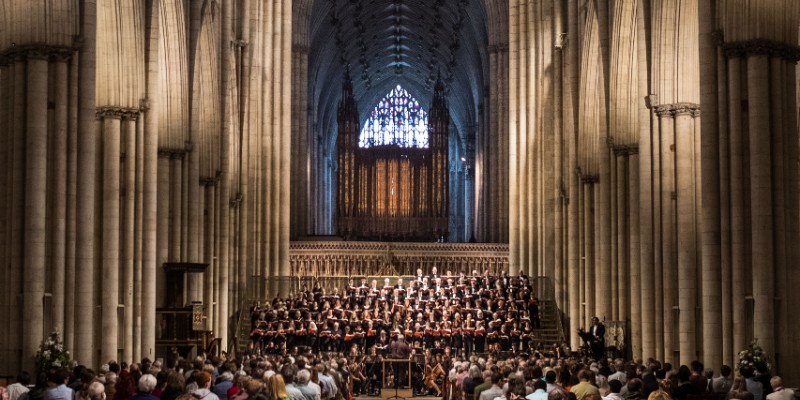 University of York Choir and Symphony Orchestra
Performance
This event has now finished.
Date and time:

Saturday 11 June 2022, 7.30pm to 9.20pm

Location:

In-person only
York Minster (Map)

Admission:

Front Nave £23 (£21; £7); Rear Nave £20 (£18; £5); Side Aisles £14 (£12; £3), booking required
Event details
University of York Choir is delighted to be joined by Associate Conductor of The Sixteen, Eamonn Dougan, together with a star-studded lineup of soloists to perform one of Dvořák's best-known sacred works in the historic setting of York Minster.
Highly personal and moving, Dvořák's Stabat Mater is often considered to have been written in the memory of the composer's daughter, Josefa, who died when she was only two days old in the summer of 1875. The piece was left unfinished until the tragic loss of his second-born daughter, Růžena, and three-year-old son, Otakar, provoked Dvořák to complete the work two years later.
Portraying the Virgin Mary's suffering at the time of Jesus's crucifixion, this powerful and symphonic piece takes the listener on a journey across a full spectrum of emotions, beginning with grief and despair and ending radiantly with hope and exultation.
A powerful performance not to be missed!
About the performers
Ana Beard Fernández soprano
Martha McLorinan alto
Joshua Ellicott tenor
Edward Jowle bass
Eamonn Dougan conductor
University Choir is a chorus of around 250 voices drawn from students and staff of the University of York, as well as the general public from the surrounding area.
Find out more about the University of York Choir
University of York Symphony Orchestra is the University's largest instrumental ensemble. Their repertoire includes works by Classical master composers as well as modern compositions.
Find out more about the University of York Symphony Orchestra
Partners