50th Anniversary Student Film Competition
Entries accepted March 23 - May 13
Event to take place as part of LUMA Showcase (PART TWO), 4pm, June 23 as part of LUMA Film Festival

The University of York is 50 years old in 2013 and we would like you to be part of our celebrations. Enter our film competition for school and college students and see your winning entry shown at the Luma Film Festival as part of the York Festival of Ideas in June. The Festival theme this year is North and South and your challenge is to produce a 3 minute film that reflects this theme in the most imaginative way possible.
About this event
The 50th Anniversary offers a unique opportunity to develop new methods of engaging with schools and colleges across the country. With this in mind the Widening Participation team wishes to launch a film competition that not only highlights the 2013 celebrations but promotes the annual Festival of Ideas in a manner that will encourage greater engagement from the school and college community.
The competition will have 3 age categories. These categories reflect the way in which widening participation projects are managed and delivered:
Y6/7/8: Winner and Runner Up
Y9/10/11: Winner and Runner Up
Y12/13/Post 16: Winner and Runner Up
In addition to the film screening at the Luma Film Festival there is a £100 prize for the winning individual or team within each category and a £50 prize for the runner up or runners up within each category.
For more information, see our page on the University's website.
To book tickets, see the LUMA Film Festival website.
Contacts: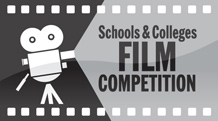 You may also like...