Meet the Millers Exhibition
Saturday 20 and Sunday 21 June 2015, 11.00am to 4pm
Free to HWPS members; Adults £3; Children 5–18 £1.
Holgate Windmill (map)
No wheelchair access.
Event details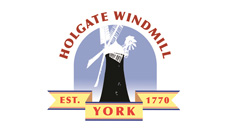 Meet York millers past and present at Holgate Windmill and learn about their lives and work since 1770 in a new exhibition. Discover which miller built the mill, who made it taller and who died from breathing in the flour dust. Also see the current millers in action producing stone-ground flour in the traditional way.
Additional links
Visit Holgate Windmill's website or mill notice board for additional open days from January to October. The mill shop is also open every Saturday 10am - 12pm.
You may also like...

This event is part of the Discovering York festival theme. Also in this theme:
Latest tweet