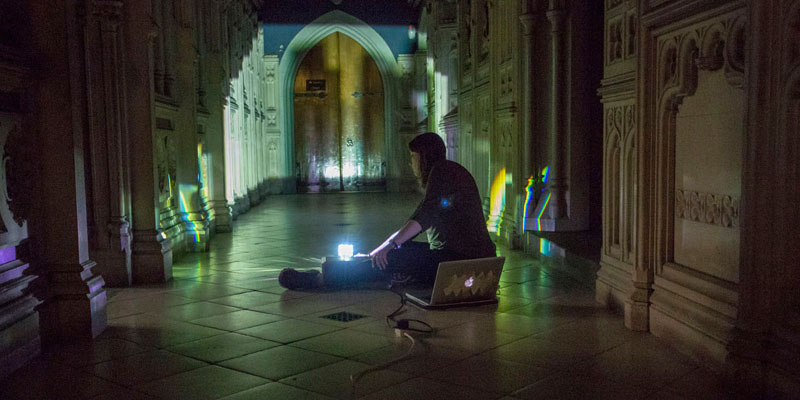 Weight of Light
Exhibition
This event has now finished.
Date and time:

Friday 14 June 2019, 10am to 4pm

Location:

St Mary's Church, Castlegate (Map)

Audience:

Open to the public

Admission:

Free admission, booking not required
Event details
Immerse yourself in a mesmerising installation consisting of optical prisms illuminated with lights in constant flux.
Presented by artist Alexandra Carr, the installation casts shadows around the room, shifting with flickering rainbows and reflections as the light moves.
Referencing experiments and theories of light by Newton and Goethe, and through the interplay of colour, light and dark, the installation reflects how aspects of both theories are correct and there is therefore truth in every perspective.
The ever-shifting light and shadow allude to the elusive nature of understanding and the bringing together of complex ideas into a unified whole; the creative process of discovering a truth from the nebulous uncertainty.
Drawings also accompany the work.
You may also be interested in our Festival Focus Day, The Poetry and Music of Science, on Sunday 16 June.
About the artist
Alex Carr is an international artist working collaboratively with world-leading experts including engineers, chemists and theoretical physicists on interdisciplinary projects with MIT, Oxford and Durham Universities.
She responds to natural processes and phenomena, such as magnetism, light and ice structures. Her practice focuses on the boundary between art and science, and includes installation, sculpture, kinetic work, drawing, photography and video. Find out more here.
Image credit: Rose Reed Gold
Partners