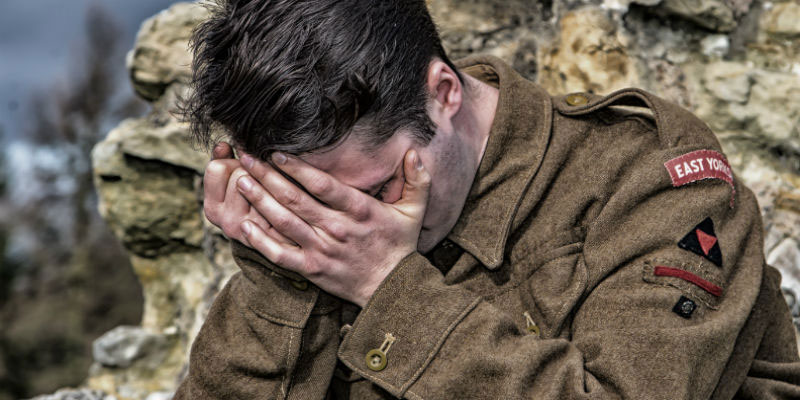 Bomb Happy Everwitch Theatre
Performance
This event has now finished.
Date and time:

Saturday 15 June 2019, 7.30pm to 9.15pm

Location:

York Army Museum, Tower Street (Map)

Audience:

Open to the public

Admission:

£12.99, booking required
Event details
'….it would be hard to imagine a more emotional experience at any Yorkshire theatre this season.' - Charles Hutchinson, York Press
'This play about ordinary men in extraordinary times deserves a much wider audience…This really is a must see play, which will stay with you forever.' - Paul Reed, BBC Historian, The World at War
Have you ever wondered how D-Day affected the lives of the soldiers who experienced it?
York Civic Trust, Everwitch Theatre and York Army Museum present Bomb Happy, a play by Helena Fox.
'I haven't seen anybody dead before and we're in the water, wading to the shore and we're literally brushing against bodies rolling in the surf – 18, 19-year-olds...people that we know...'
Bomb Happy evocatively brings to life the verbatim memories of the five remaining York Normandy veterans who, as young lads from York, Leeds, Sheffield and London, found themselves part of one of the most important military operations in World War II.
Told in the veterans' own words, Bomb Happy follows each veteran's unique journey from D-Day to VE Day and highlights the lifelong impact of Post-traumatic stress disorder (PTSD) on the lives of these incredible men now in their 90s.
After each show there is a unique opportunity to meet the veterans, and talk to the real men and women behind the stories.
Suitable for ages 12+
About the performers
Based in rural North Yorkshire, Everwitch is a new writing theatre company working within communities to explore and unearth stories of both local and national significance. The company brings intangible heritage to life through thought-provoking performances.
Partners