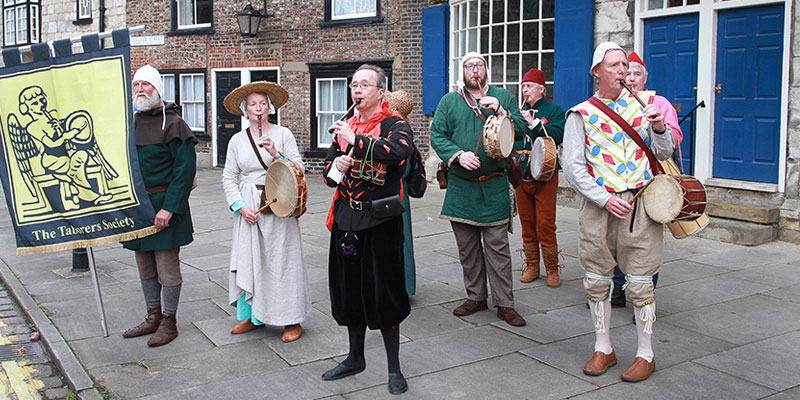 Medieval Music: Listen, learn and try Taborers Society
Performance
This event has now finished.
Date and time:

Sunday 16 June 2019, 2pm to 5pm

Location:

St Helen's Church, St Helen's Square (Map)

Audience:

Open to the public

Admission:

Free, but a retiring collection will be taken, booking not required
Event details
Discover England's traditional but unusual musical instruments, the pipe and tabor. Played simultaneously by one musician, they were the instruments of choice to accompany dancers in medieval times.
Members of the Taborers Society will demonstrate how the pipe only has three finger holes, so can be played with one hand while the other hand beats the rhythm on a tabor - a drum with two skins.
Demonstrations of the pipe and tabor, as well as the hurdy-gurdy – a medieval stringed instrument - will lead to an informal concert around 3.30pm. Come along and discover the making of medieval music.
Suitable for all the family.
Taborers Society
The aim of the Taborers Society is to promote the pipe and tabor in all aspects including: performance, research, understanding and public profile. It holds a number of events, including an annual international festival. Its annual symposium explores the history, morphology, music and context of the tabor pipe around the world.
The society maintains a repertoire of music for the pipe and tabor which is available to its membership.
Partners