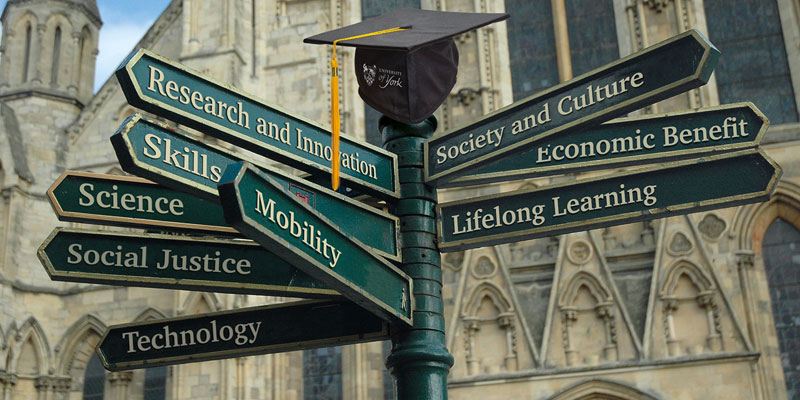 What Have Universities Ever Done For Us?
Universities are the engine room of discovery, extending the boundaries of knowledge to tackle complex global challenges by unleashing the power of the imagination and empowering new generations of thinkers.
But too often, of late, they are seen as driving an agenda of globalisation that seemingly benefits only an educated elite leaving other communities feeling left behind and marginalised. What do universities need to do to redefine their purpose, their value and their relevance to the many and not just the few?
Join in the conversation at our Festival Focus Day with expert speakers including Lord Kerslake, Chair of the UPP Foundation Civic University Commission; Anil Markandya. one of the core team that drafted the Intergovernmental Panel on Climate Change (IPCC) 4th Assessment, awarded the Nobel Peace Prize; Hamish McAlpine of Research England; Sue Hartley, Callum Roberts and Deborah Smith of the University of York; Maths teacher and University Challenge star Bobby Seagull; Andy Westwood of the University of Manchester; Philip Long of V&A Dundee; Faye Taylor of the Association of Commonwealth Universities; and Alain Beretz, former Director-General for Research and Innovation at the French Ministry for Higher Education, Research and Innovation.
Our Festival Focus Day is presented in collaboration with the UPP Foundation and HE for Research Professional.
MadeAtUni is a new campaign to bring to life the impact of universities up and down the country on people, lives and communities. View the 100+ ways universities have improved everyday life, and explore the breakthroughs in health, technology, sport and culture, environment, family, and community. Follow on Facebook, Twitter and Instagram @MadeAtUni