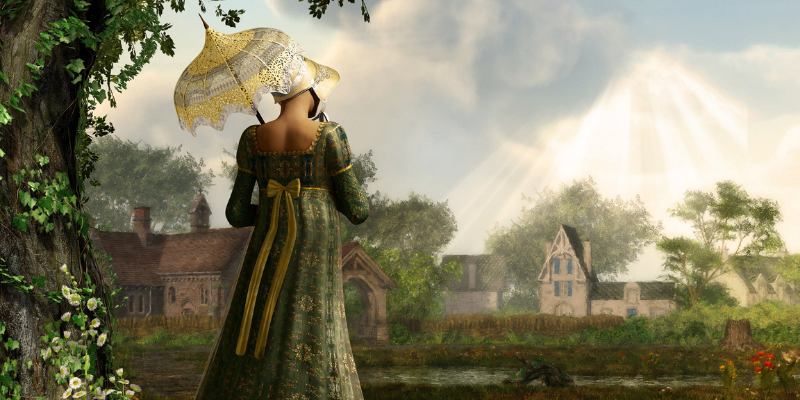 CANCELLED - (Re)telling Stories at York Theatre Royal with Mary Bly / Eloisa James Mary Bly / Eloisa James in conversation
Talk
This event has now finished.
This event has been cancelled.
Date and time:

Sunday 12 June 2022, 1pm to 1.45pm

Location:

In-person only
York Theatre Royal, St Leonard's Place (Map)

Admission:

Free admission, booking required
Event details
Join us for an fascinating exploration of Regency romance fiction, a genre that has enjoyed a dramatic rise in popularity in recent years, with shows such as Bridgerton topping the Netflix charts.
We are excited to partner with York Theatre Royal and, together, welcome bestselling novelist Mary Bly, who writes under the pen name 'Eloisa James' and also has a successful career as a Shakespeare professor.
Mary will discuss her experience balancing writing romantic fiction and Shakespearean scholarship, while chairing the English Department at Fordham University in New York. Her two lives often intertwine: for example, she co-wrote her first Regency romance while studying for an MPhil at Oxford - with a friend who is now a Fellow at Brasenose College!
She also co-wrote several romances with Julia Quinn, author of the Bridgerton series. Mary will explore the rise and impact of the regency romance in books and videos from the past and present.
Book sales
You can buy copies of many of our speakers' books from
Fox Lane Books
, a local independent bookseller and Festival partner. In some cases, author signed bookplates are available too.
About the speakers
Professor Mary Bly is a Shakespeare professor and Chair of the English Department at Fordham University, as well as a New York Times bestselling author of historical romance novels under the pen name Eloisa James. She has published over 30 novels, which have been translated into 26 languages, with sales worldwide of 7 million. She not only has a double life as a writer and professor, but also a double life as an author: her most recent novel as Eloisa, How to be a Wallflower, was published last March, and her first novel as Mary, Lizzie and Dante, was published last July. She also wrote the New York Times bestselling memoir, Paris in Love, about the year her family spent in France. Her articles have appeared in The New York Times, Good Housekeeping, NPR and The Wall Street Journal. She points with particular pride to a year in which she keynoted both the Shakespeare Association of America conference and the Romance Writers of America conference. She lives in New York and Florence, Italy.
Partners