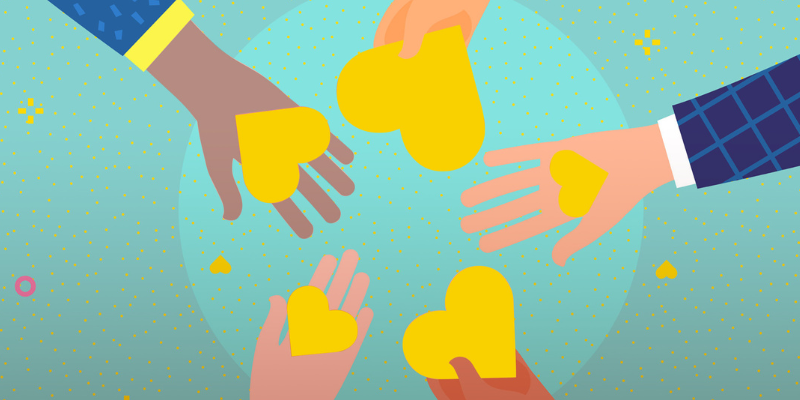 How to Support Us
York Festival ideas is one of the largest free festivals of its kind in the UK. Since its inception in 2011, the Festival has welcomed a range of inspiring and engaging speakers and delivered a huge programme of accessible events that have consistently aimed to demonstrate the transformative power of ideas and education to as diverse an audience as possible. In 2023, the Festival attracted an audience of 38,500.
If you would like to donate to York Festival of Ideas, please support us using the button below. Every penny raised will be used to bring more inspiring speakers and exciting events to York - and the world, through our virtual events.
The delivery of a festival that is composed predominantly of free events is underpinned by the support of our partners which have included the Holbeck Charitable Trust, Joseph Rowntree Foundation, Virgin Trains East Coast/LNER, Shepherd Group, Lloyd's Register Foundation, the French Embassy in the UK, the Morrell Centre for Legal and Political Philosophy, Aviva, and many more.
Speakers over the years have included Nobel Laureates Seamus Heaney (sadly one of his last public appearances) and Amartya Sen; former Children's Laureate Sir Michael Morpurgo; and high profile policy-makers, politicians, commentators, journalists and broadcasters, including Shami Chakrabarti, Michael Wood, Peter Lord, Ed Balls, Sara Pascoe, the Reverend Richard Coles, Harriet Harman MP, BBC Radio 3 New Generation Thinkers, Lyse Doucet, Lord Howard, and many others. In 2018, the Festival also hosted one of the prestigious annual BBC Radio 4 Reith Lectures, which were broadcast globally to more than 11 million listeners.
We have a strong desire to make the Festival as accessible and inclusive as we can. For this reason nearly all Festival events are free of charge. We are grateful to the donors, trusts and other partners, who help us present a stimulating and engaging programme each year. If you would like to support us there are a range of opportunities available to you.

"The range of themes was so well balanced for age, interests and the opportunity to discuss issues for future generations. Also, the quality of presentations. Excellent speakers over the years. I feel this Festival is such a credit to York." Festival attendee
Partnership opportunities
Partnership opportunities include £1,000 for support of a single event; £10,000 for the support (and co-curation) of a Festival Focus event series; and headline partnership. Partnership can also take the form of in-kind donations, such as offering the use of a venue for free, facilitating access to high-profile speakers, in-kind marketing support including digital advertising, and provision of other logistical or programming support.
"[The Festival] makes York feel like a city that promotes and cherishes a love of learning" Festival attendee
Benefits of partnership
Partnering with the Festival at any level will provide significant brand exposure through association with a recognised, high-quality festival which attracts a large audience from across Yorkshire, the UK more broadly, and overseas. Our survey data has shown that over 40 per cent of our audience each year is new to the Festival. Association with the Festival also brings alignment with one of the UK's leading universities - the University of York - and other strong Festival partner brands.
All partners are recognised in our Festival brochure (10,000 hard copies are normally distributed, with the brochure also available for download on the Festival website), and on the Festival web pages (233,062 website views). There are opportunities for partners to display their branding (through banners, flyers etc.), and/or to have a physical presence (e.g., a stand) at relevant events. Corporate hospitality options are also available.
"So many wonderful and inspiring events, sharing of ideas, and conversations that will likely make tomorrow's world a better place. For the last two weeks York felt like the most vibrant city on the planet. Well done all!" Festival attendee
Key statistics from York Festival of Ideas 2023:
38,500 attendees

241 events

233,062 website views from 151 countries

19,374 followers across four social media platforms

99% would recommend the Festival to a friend

95% rated the Festival as Excellent, Very Good or Good

44% had not attended the Festival before

90% said they were more likely to attend events because they were free of charge
York Festival of Ideas 2023 impact report
"Having recently been at a similar festival and seen the prices people are willing to pay for a bit of food for thought, my respect for @UniOfYork's Festival of Ideas is greater than ever. Two weeks of stimulating ideas and events and it's all completely free."
Take a look at our impact reports from previous Festivals: 2022 report; 2021 report; 2020 report.
"[I liked] the breadth and quality of talks and [the] general atmosphere of the festival. It feels so open and safe as a cultural and academic space, and is so accessible to everyone. That we can access such high quality talks and events for free is extraordinary - it is one of the best things about living around York and an absolute gem in York's cultural crown."