The Eighteenth Century in the present day
Diversions and illuminations
28-29 June, King's Manor, 9am-5pm
A program of exhibitions brought to you by The Eighteenth Century in the Present Day.
That Little Modish Machine
An exhibition of contemporary fashion photography and 21st-century fans co-curated by Ashley Mauritzen, editor of Let Them Eat Cake magazine.
This Little Stage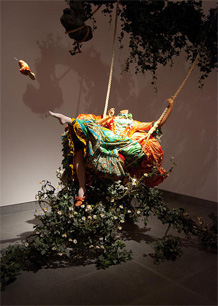 Yinka Shonibare, 'The Swing (after Fragonard)' 2001, at Brooklyn Museum © Diana Quick
You may also like...