TRANSMISSION Interactive Installation
Sunday 22 June 2014, 1.00

PM

to 5.00pm

Free admission


No booking required

Drop in any time between 1pm and 5pm

Black Box,

Department of Theatre, Film and Television, University of York

(map|getting to campus)
Event details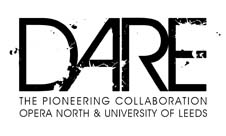 Immerse yourself within an interactive sound and video installation inspired by the transmission patterns of 'infectious' ideas through social networks, and the spread of real-world diseases through human populations. This award-winning team of artists, scientists and musicians combine cutting-edge technology and scientific research to create a sonic and visual world for you to explore.
Lead by artist and stage designer Becs Andrews (Phase Revival: An Optical Harmonica) in collaboration with evolutionary biologist Professor Mike Brockhurst, choreographer Simon Birch, composer Jon Hughes and the team behind Hidden Fields (Tom Mitchell, Phill Tew) with bespoke engineering from x-io technologies, TRANSMISSION promises to be a truly eye-opening experience.
Drop in at any time between 1pm and 5pm to take part – this is a dance performance ideal for children aged 10 upwards, and for adults.
Accessibility

Wheelchair Accessible