Poetry and Illness

Simon Armitage, Blake Morrison, Gillian Clarke, Simon Denegri, Peter Sansom/span>
Thursday 19 June 2014, 8.30

PM

to 10pm

Free admission


Booking required

York Theatre Royal on 01904 623568

York Theatre Royal, St Leonard's Place

(map)
Event details



Nationally renowned poets Simon Armitage, Gillian Clarke, and Blake Morrison are joined together on stage for a unique event to consider the relationship between poetry and ill-health. Chronic illness affects almost everyone at some point in their lives. The language we use, how we talk, think and write about our experience, matters.
Chaired by Simon Denegri with contributions from Peter Sansom, this will be a fascinating evening of readings and discussion about the expression of one of the most common forms of human experience.
Follow @poetryillness on Twitter
Funded by the University of York's Centre for Chronic Diseases and Disorders.
About the speakers:
---
Blake Morrison
Blake Morrison was born in Skipton, Yorkshire, and educated at Nottingham University, McMaster University and University College, London. After working for the Times Literary Supplement, he went on to become literary editor of both The Observer and the Independent on Sunday before becoming a full-time writer in 1995.
A Fellow of the Royal Society of Literature, and former Chair of the Poetry Book Society and Vice-Chair of PEN, Blake has written fiction, poetry, journalism, literary criticism and libretti, as well as adapting plays for the stage. His best-known works are probably his two memoirs, And When Did You Last See Your Father? and Things My Mother Never Told Me.
Since 2003, Blake has been Professor of Creative and Life Writing at Goldsmiths College. He lives in south London, with his wife and three children.
---
Simon Armitage
Simon Armitage is widely published and amongst his many books are Seeing Stars (2010, Faber & Faber, Knopf 2011), and a translation of the Middle English classic poem Sir Gawain and the Green Knight (Faber & Faber, 2007).
A former Sunday Times Young Writer of the Year, he is one of the few poets to have won both a BAFTA and an Ivor Novello award. His new collections include a publication from Smith Doorstop and Paper Aeroplane (Faber) both 2014.
In 2010, for services to poetry, Armitage was awarded the CBE and in 2011 Armitage was appointed Professor of Poetry at the University of Sheffield.
---
Gillian Clarke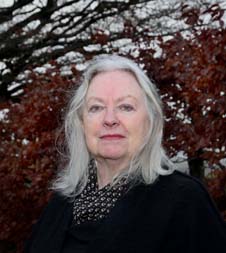 Gillian was born in Cardiff, Wales. She is poet, playwright, editor, translator (from Welsh), President of Ty Newydd, the writers´ centre in North Wales which she co-founded in 1990 and tutor on M.Phil. course in Creative Writing, at the University of Glamorgan, since 1994. She is a freelance tutor of creative writing, primary schools to adults.
Her poetry is studied by GCSE and A-Level students throughout Britain. She has travelled in Europe and the United States giving poetry readings and lectures, and her work has been translated into ten languages. She has a daughter and two sons, and now lives with her husband (an architect) on a smallholding in Ceredigion, where they raise a small flock of sheep, and care for the land according to organic and conservation practice.
---
Simon Denegri
Simon Denegri is Chair of INVOLVE – the national advisory group for the promotion and support of public involvement in research funded by the National Institute for Health Research (NIHR) – and NIHR's National Director for Public Participation and Engagement in Research. He was Chief Executive of the Association of Medical Research Charities (AMRC) from 2006 until 2011 and, prior to this, Director of Corporate Communications at the Royal College of Physicians from 2003. He also worked in corporate communications for Procter & Gamble in the United States from 1997 to 2000. He has a long-standing personal and professional interest in the needs and priorities of people with dementia and their carers and currently chairs the Lay Champions Group for the national portal on dementia research that is to be launched this year. He is a member of the NIHR Advisory and Strategy Boards, and INVOLVE's representative on the UK Clinical Research Collaboration (UKCRC) Board. Simon is a member of the Poetry Society.
---
Peter Sansom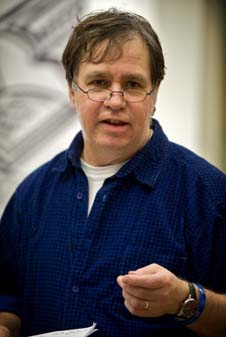 Peter Sansom is a poet and tutor. His publications include On the Pennine Way (Littlewood, 1988) and Everything You've Heard is True (Carcanet, 1990), a Poetry Book Society Recommendation. His poem commissions include for The Guardian, The Observer, Radio Three, The Big Breakfast, a billboard in the centre of Lancaster and The Swedish Club (a Marine Insurers in Gothenburg).
Over the last 25 years, Peter has led writing workshops in hundreds of schools and workplaces, been Writer in Residence for Marks & Spencer and The Prudential and regular tutor for the Arvon Foundation.
He taught the MA Poetry at Huddersfield for 10 years, was Fellow in Creative Writing at Leeds University, and leads monthly Writing Days and the advanced Writing School course at The Poetry Business.
He is a director of The Poetry Business in Huddersfield, and co-editor of The North Magazine and Smith/Doorstop Books.
Accessibility

Wheelchair Accessible