Figured Windows: Adult creative writing workshop

John Wedgwood Clarke/span>
Event details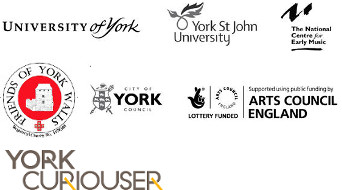 York is a treasure trove of medieval stained glass. Glass is a wonderful thing to write about: it can twist, bend and split light. It can discover vision and mark our separation from the outside world. In this workshop we'll take inspiration from the history and process of glass making in York to discover the way poems can shift from being transparent, to coloured and even opaque and secretive. Suitable for aged 18 years upwards.
This workshop is part of York Curiouser: the city explored through contemporary art interventions. York Curiouser has commissioned John Wedgwood Clarke to write a new poem inspired by York's medieval stained glass which will be stencilled on a hidden passage in York as part of the re-installation of the York Curiouser 2014 series of poems In Between. This workshop will enhance your understanding of this site-specific series of poems and forms part of York Curiouser's research during 2015.
About the speaker
John Wedgwood Clarke is a lecturer in creative writing at the University of Hull. He regularly works with curators, scientists and artists on public art projects. His first full collection Ghost Pot (2013) was described as 'a masterpiece that rewards continual rereading' by Bernard O'Donoghue and has been selected by New Writing North for Read Regional 2015. Recent poems have appeared in PN Review, Poetry Review, POEM, The New Statesman, Best British Poetry 2012 and Poetry Wales. John is also UK and Ireland Editor for Arc Publications.
His series of poems In Between was installed around the city for York Curiouser last year. This year he has written a new poem inspired by the medieval stained glass in York.
York Curiouser
Please follow York Curiouser on Twitter and Facebook.
Tickets