Looking Back through the Lens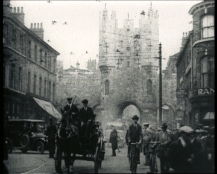 Tuesday 9 - Sunday 21 June 2015

Online exhibition


Please call 01904 876565 for additional information.
Event details
The Yorkshire Film Archive will be inviting audiences to respond to the filmed heritage of the city with a daily online 'film reveal'. Be a curator, interpret the material, create a new story around the footage. What does it mean to you in terms of people, place, and stories?
YFA will be working with Plump to create the online portal, alongside a city-wide campaign encouraging people to participate with immediate responses to the content. The results will be curated into a final exhibition/presentation as the Festival draws to a close.

You may also like...

This event is part of the Behind the Lens festival theme. Also in this theme:
Latest tweet